3 Benefits of Electronic Prescribing Software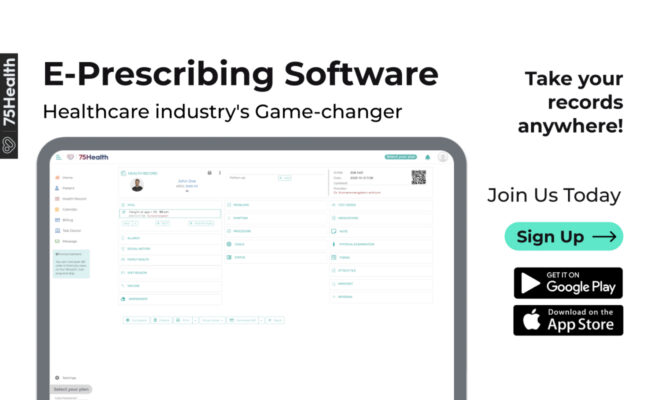 Electronic Prescribing Software is the modern tool used by healthcare professionals to create digital prescriptions using an iPad/iPhone and transmits securely to pharmacies.  This makes the medicine collection process easy with no errors. E-Prescribing Software is developing rapidly, because of the fact the benefits it gives to manage medication and history.
Improved Safety
E-Prescribing Software aims to replace the paper charts, faxes, calls with digital screens, and maximum templates are integrated into the tool by large improvements. Handwritten prescriptions contain more avoidable errors and it can be improved with a medical dictionary. Regular updates are made to avoid unavailable drugs, duplicate therapies, misinterpretation, and illegible handwriting.
Illegible handwriting results in hundreds of calls to cross-check the information are correct and subjectable to disease. The new tool detects the mistakes on the spot and alerts the doctors to change effectively.
Clinical Support
Providers can access full medication details of patient documents with allergies in detail and a command box pops up if components in the newly prescribed medicine match with the allergic drug database.
When an automation tool supports the decision-making process with proper evidence, a patient gets satisfying results as it gives a clear projection of the new plan.
Prescription validity is extended for more than 6 months so patient medical claim becomes more stable. Pharmacists are given the power lawfully to use prescriptions multiple times based on the doctor's recommendation only from E-Prescribing Software.
Medication Adherence
Before the invention of digital prescriptions, there is no way to track handwritten prescriptions. Patients decide to either continue full medication or half mediation based on their affordability limit but this tool helps the doctor to know the potential benefits and adverse effects.
Cost flow is the most important concern for primary healthcare to adopt E-Prescribing Software. Office-based physicians have the advantage of managing their clinical time more effectively. Time is saved by collecting data and no separate staff is required.
Controlled drugs can be supplied to patients in an emergency without POM for a maximum of 5 days and later pharmacists should contact patient's regular doctors by viewing their PHR/EHR.
Keys to Be Remembered:
Legible understanding and preloaded templates
Detects the mistakes and suggest alternative names
Full medication details
Automation tool supports decision
Prescription validity and refill reminders
Easy prescriptions tracking
Accurately calculates dosages on mg/kg/day
Updated SIG codes minimize the language usage for doctors
Prescribing sheets are directly sent to pharmacies once the consultation is completed. Electronic Prescribing Software updates the ratios and proportions automatically in cloud storage. Therefore, it helps clinicians to select the right dosage from the drop-down list.
Read More at 75health
Source : https://electronicprescribingsoftware75.blogspot.com/2021/07/3-benefits-of-electronic-prescribing.html