Are you conscious of recording your health data? No more complications anymore, use our E-Prescribing Software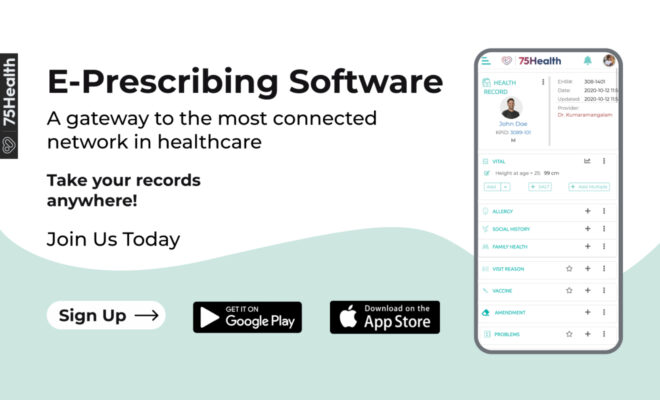 Recording date is not easy as you think! Dates are so important to know the event and it serves as evidence for various reasons. Dating all the things required for the future gives us the control to organize information as we want. No guesswork is involved while arranging in chronological order. The same goes with the medical industry, Medical prescription and bills are kept are in alignment by day, month, and year easily with E-Prescribing Software.
E-Prescribing Software is an organized tool that helps the patients to get the right medicines from the pharmacies as prescribed by doctors directly. It is generated from the doctors' desk and travels to pharmacies electronically and reduces paper cost and human errors. The web-based software stores all the prescription with proper date and time in a file or health portfolio.
Reasons to have a date in prescription is mandatory for different reasons like an insurance claim, pathology analysis, performance study and so more. The common lack of attention is eliminated while filling a digital prescription as the alerts improve patients' well-being with a pop-up recommendation.
When a patient wants to refer his old medicines, E-Prescribing Software serves as a reference database. Files are stored electronically and easy to access from anywhere. The difficulties in handling paper prescriptions are no more and carrying them is easy.
There is no guarantee that we live in the same location for many years, as time changes we should also move to a different location and start our living but our healthcare providers cannot. When we start our medical journey with new providers they need to know about your previous medications. All medications are listed with a proper timeline and who attended the patient every time.
Direct communication with a pharmacist and medical experts helps better in decision making. Doctors recommend monthly medicine subscriptions for chronic disease patients with pharmacies. Prescription can be cancelled and renewals can be placed anytime by doctors so drug substances are controlled as per the blood pressure and sugar level.
While prescribing new medicines, E-Prescribing Software alerts doctors with possibly harmful effects. Allergic information of every patient is stored in their profile so new medicines are compared immediately. Doctor changes the dosage level or medicine type to avoid those effects.
E-Prescribing software is the most updated software in the healthcare industry because new diseases and equivalent medicines are discovered regularly. Government approves new medicine production and allocates new codes to fit into the existing healthcare system.
Read More at 75health
Source : https://electronicprescribingsoftware75.blogspot.com/2021/02/fear-of-consciously-recording-date-is.html