Generate Digital Prescriptions in Less Than a Minute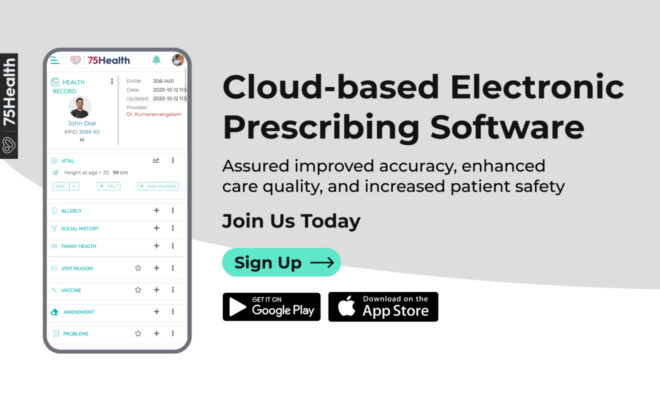 Tiresome work comes along with the handwritten prescription to understand the doctors' handwriting. To match the speed of the fast-moving world, EHR Software has created ways for doctors to write prescriptions electronically, saving both time and effort for doctors to ease the prescription generation. 
E-Prescribing Software is a combination of prescribing concept, service provider authority, pharmacy order, and a tool; to make the patient understand the exact instruction without any errors. The ambulatory care unit included it as an integral part of safety management, quality service, and timely action.
Preventing Errors
E-Prescribing Software allows storing consultation summary, video consultation, text messages, and email messages. All information is automatically stored in the app under the patient ID, with accurate details.
Speedy Medication Process
The paper prescriptions do not help the medical world to know patient history accurately. Manual tracking is so complicated for managing critical illness patients.
E-Prescribing Software makes it easy to update patient information instantly with the easy interface. While prescribing, it takes consideration of drug-to-drug interaction and other allergies, this controls medicine management.
Monitoring Of Controlled Substance
Delivering medicines with controlled substances needs a special recommendation from a doctor and pharmacy management records it before the sale. Doctors can track a patient's profile how many controlled medications they have taken at a particular time.
Electronic databases are installed across various regions to collect dispensed controlled substances data, patient population, and medical requirement of it. Through e-prescribing software, it is easier to track data from various pharmacies at the same time.
Automates Clinical Decision
Each drug gives unique results when mixed in different combinations. The market is filled with medicines of different forms, strengths, and dosage levels. E-Prescribing Software automates the process by selecting medicines from the dropdown list.
It cross-verifies the dropdown list of drugs along with the standard safety parameters to avoid new clinical threats.
Helps Insurance Verification
Prescriptions and medical bills are the main sources of insurance claims. The manual verification of these documents takes a lot of effort and time. Because of different errors, most of the claims are rejected. Even this software, tallies all the prescribed drugs, invoices, and submits multiple claims.
No More Prescription Loss
Traditional handwritten records can be easily misplaced and the chance of losing them is no more with E-Prescribing Software. The pharmacist can keep it in electronic format and on-demand; a user can check its data anytime in a query.
Key Benefits
Low rate of rehospitalization
Notification alerts
Timely filing features
Easy tracking of medication
Increased insurance approvals
Clinical support system
Read More at 75health
Source : https://electronicprescribingsoftware75.blogspot.com/2021/08/generate-digital-prescriptions-in-less.html