Healthcare Costs is Reduced Using E-Prescribing Software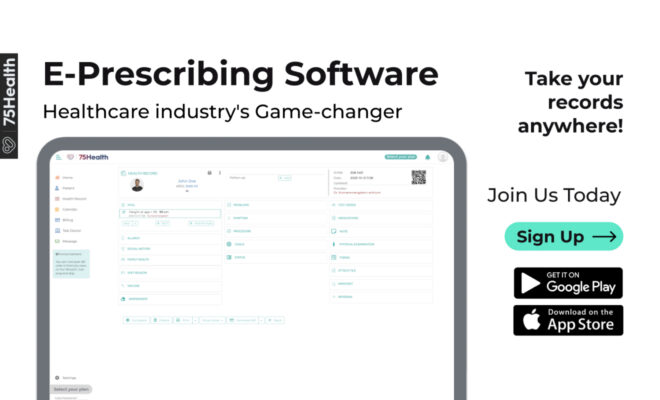 Technology reduces errors from risky tasks. Doctors, medical staff, and front-end staff will thank you for safeguarding them against human errors in a hospital environment. Modern healthcare solutions are based on unique medical needs and the goal is to quickly lower operating costs and increased output.
E-Prescribing Software is an alternative solution to paper prescription and fax transmission. It helps doctors to fill prescriptions easily and improves patient engagement. Pharmacies directly receive a digital prescription from doctors so the need for confirmation is reduced for medicines distribution.
The benefits of E-Prescribing Software to reduce the overall cost
In the healthcare industry, E-Prescribing Software plays an important role to eliminate the opioid epidemic and saves millions to organizations across the world. Physicians and doctors can control the substance intake of a patient with this software as it alerts opioid fraud.
The Centre for Disease Control and Prevention (CDC) reported nearly every year US $78.5 billion is incurred for opioids alone. This cost is not from one department alone it transcends through the cost of healthcare, criminal justice involvement, lost productivity, and add-on treatment.
Thousands of cases in the courts are pending against distributors, pharmacies, and drug manufacturers for marketing opioid drugs in the marketplace.
Patient safety is ensured by making decisions with statistical support of prescribed medicines and dosage levels. Few organizations are subjected to a higher risk of abuse to claim more bills from insurance providers.
E-prescribing software makes a perfect agreement with the compliance of government regulations. Drug orders are placed electronically so the chance of using the wrong medicines is not possible.
Product demands in the pharmacies make them use alternate company products; it can be confirmed with a doctor before distribution and can be entered into the electronic medical records once the doctor approves.
Times to time prescriptions are maintained safely in E-prescribing software and can be used for various purposes like healthcare auditing, reimbursement, etc. It is stored in medication history where all data can be derived at any time on request.
Software possess the ability to analyse the prescription, drug data, medication frequency, and complete patients' summary, thus customized summaries are generated and workflow is managed effectively.
Medication management is improved with E-prescribing software as it strictly follows the latest updates of healthcare industry and new standards. Patients understand medication's purpose and the essentials of using it regularly.
Read More at 75health
Source : https://electronicprescribingsoftware75.blogspot.com/2021/02/healthcare-costs-is-reduced-using-e.html