How does E-Prescribing Software Help to Create Effective Healthcare Software Solutions?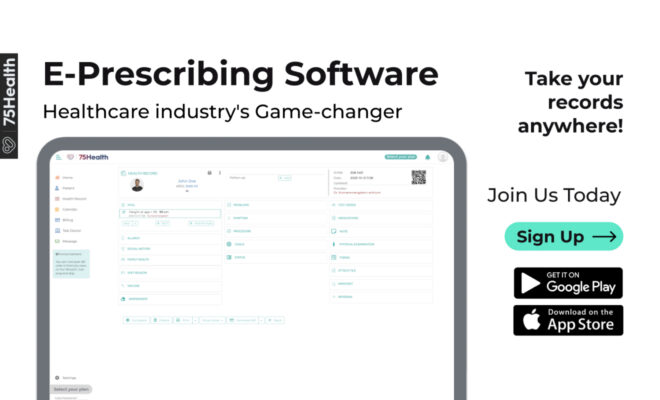 Almost every sector has been impacted by technology. Technology made our lives so easy and more straightforward. It supports the management of tasks very effectively. The healthcare sector is so appetizing with its influence and we can know about How does E-Prescribing Software Help to Create Effective Healthcare Software Solutions?
The healthcare industry has recognized the value of technology so quickly. Innovation and technological advancements are being embraced so people get benefitted. E-Prescribing Software gives so compelling reasons to be used in a hospital environment where it provides much-needed competitive features. Medical prescriptions are reshaped by technology and this not only minimizes the workload but also improves patient care.
Adapting Artificial Intelligence
In E-Prescribing Software AI and Machine Learning were integrated with healthcare software, so suggestions quickly recommended. Human-like solutions are recommended by analyzing the medicine and dosage frequency.
Highly efficient tools were used to track patients' medication and allergy details, so possible drug-to-drug interactions were identified and new medicines were suggested. Patients and medical practitioners are using next-gen technologies to give diagnosed care and effectiveness in each appointment are achieved.
High-Quality Images
E-Prescribing Software supports the import and export of images in high quality so, during the transfer of information to laboratory or physicians' network, even image comparison does not affect the quality. Images are attached with a clinical summary of patient visits and reasons for changes in medication are mentioned properly.
Radiograph images of surgeries and organs are uploaded in high quality so doctors are zoom in to any point they want to infer and mark the medical event place for reference. This helps them for diagnosing and engaging with patients increases a lot with proper evidence, but not paper.
Cloud Solutions
E-Prescribing Software allows cloud solution where a vast amount of data can be found in one place and it can be accessed from anywhere, at any time only needed element for operating is internet connection in any device.
When a doctor needs to double-check a patient's information, he or she can access the entire medication history of the patient like allergies, medication, treatment type, and duration.
Effective healthcare software involves creating dynamic solutions that are fully integrated with overall hospital management. With the help of E-Prescribing Software, pharmacies are embracing electronic prescription so human errors are reduced and the intention of treatment is directed towards a patient in the right way.
E-Prescribing Software is a useful tool to track all unfilled medications and allows doctors to inform patients about the importance of taking medicine through an inbuilt chat or email system. This improves the importance of drug adherence and effective healthcare solutions are created.
Read More at 75health
Source : https://electronicprescribingsoftware75.blogspot.com/2021/04/how-does-e-prescribing-software-help-to.html