Why do we say Electronic Prescribing Software is a new frontier for the healthcare industry?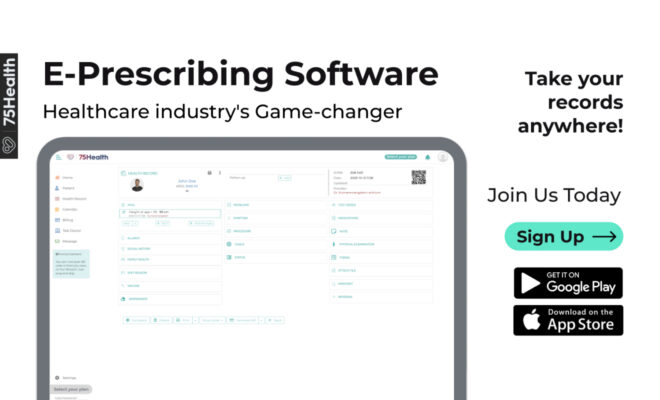 All over history, there are no such revolutions as technology development. It has created many paths to unopened doors to explore new opportunities and reduce human errors. One such kind is Electronic Prescribing Software. It is similar to paper prescription; the medicines and instruction are the same but the medium is changed into electronic. The healthcare practitioners enter all the medical information in a digital space like a computer and tablet-based devices and can be securely transmitted to pharmacies and other medical organizations to carry medication distribution.
When a prior authorized medical expert enters prescription information into encrypted software, it transmits to a network of pharmacies and healthcare organizations to take action. The action includes the distribution of medicines, lab tests, consulting field experts, and instruction for physicians and therapists. The main advantage is improved medical practice and effective data management of patients. The overall process is completely recorded and with this software, both doctors and patients can view this information whenever they require it.
Improved Medical Care
Electronic Prescribing Software improves accuracy, safety, and quality of treatment. It helps organizations to save a lot of time and resources as it is electronically delivered, manual data entry, and efforts of cross-checking the orders are reduced. Paper to paperless transformation gives the clarity of action what to be done and whatnot; because no interpretation is required as handwritten papers are excluded. Self-assistance is supported as the software is regularly updated with reliable information.
Medical Data Management
Electronic Prescribing Software gives the easiness of handling medical records starting from order placement to the cycle remaining. It enables the patients to get medication at any pharmacies geographically located. All patients need just one resource, an internet-connected device, as it is flexible, convenient, and requires no special knowledge. The resources like fax machines can be eliminated and so medicine can be delivered right after receiving the information from reliable healthcare organizations.
With cloud-based software, medical experts can follow up with patients regarding their on-and-off going treatment by communicating effectively. Prescription language for each medication is built with the industry standard like medication name, dosage, timing, and application direction. A quick search database is built with local drug and retail pharmacies.
Today, the healthcare industry is evolving with more and more new features to give advanced treatment. The majority of features show Electronic Prescribing Software is a new frontier as it empowers pharmacies to perform online transactions, checking insurance eligibility, and reviewing drug utilization. Even with the wrong prescription, the collision of drug and drug can be prevented. By doing so, pharmacists can nearly save 1 million harmful errors.
Read More at 75health
Source : https://electronicprescribingsoftware75.blogspot.com/2021/01/why-do-we-say-electronic-prescribing.html