Clinical Benefits of EMR Software Implementation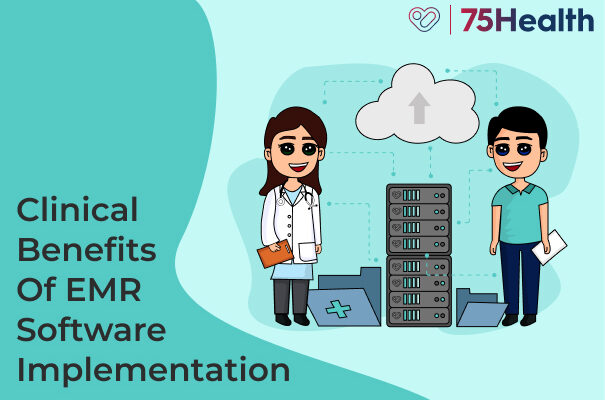 Are you looking to improve the clinical results of medical organizations, and then employing EMR Software is the best solution. Using paper-based records is not going to help to race against the digital era benefits. Immediate switching gives control to manage the drawbacks of old-fashioned paper and enhance the digital benefits.
Paper records are simply too insecure and hard to access. Electronic Medical Records Software simplifies the advanced method of maintaining records. It offers the control to secure information. It gives the convenience to share with concerned medical parties. Physicians can send reports straightway instead of courier or overnight mail.
Fewer Errors
To achieve more reliable healthcare systems, EMR Software ensures safety and security to physicians and patients for sharing data nationally and internationally. The lack of accurate information can cause death by human error. Now, the software warns physicians with deeper analysis and generates a report on the subject that matters most. It can measure the problem and guides users to create a safer environment.
Better & Quicker Care
Urgent care is completely supported by EMR Software and equips all modern healthcare systems and treatments. Even laboratory and procedural capabilities are allowed to accurately predict pain points. It typically brings the doctor's office into virtual space.
Staff are comfortable and providers are satisfied. Doctors can passionately operate with any community to provide medical care with good standards. It can track results and data is collected to improve diagnosis.
Supports Data-Based Decisions
EMR Software supports decision-making with good quality of data for making a variety of decisions. It gives the insight to be clear on patient care, resource management, policy, and other objectives. Evidence-based decisions improve service delivery and quality.
Electronic Medical Records Software improves the work-life balance for physicians. Patient health is a constantly changing graph with a wide range of information from the past and present. Concept and design are more humanized than medical knowledge. Anyone can easily handle electronic systems in an easy user interface. This can effectively transform the practice style.
EMR Software makes the job much easier and efficient. When a hospital evolves, it needs additional staff to support the operations. The software makes the practice; easy and progressive for results. You can track radiology and laboratory reports, fast and immediately. It simplifies the multi-disciplinary operations with simple clicks and separated module design.
It avoids contradictory information and facilitates bidirectional communications among patients and staff. Organization gets continuous user training, surveillance, service response, and monitor healthcare effectiveness.
Does Your EMR Software Work In Cloud?
If your clinic doesn't provide customizable healthcare plans, then it's obvious you lose a lot of patients. In today's world, customization is the key to customer satisfaction. Electronic Medical Records Software creates wonderful things in a cloud-based platform. It enables small physicians to create quick-and-fast practice.
EMR Software minimizes the expensive training with virtual training. As a result, it lowers the overall time of deployment with instant login. All staff are trained to use the software at an advanced level as the interface is designed for easy navigation. His solution offers these benefits because it is cloud-based.
Majority of hospitals and clinics are looking to store their data in a centralized place. Any authorized person can access it from anywhere – a new town or country doesn't matter. EMR Software is responsible for all the hospital functions, performance tuning, data recovery, and other repetitive tasks for better healthcare.
The Software collects usable non-identical data from many organizations. It analyzes and shows suggestions to improve outcomes. Epidemic trends and outbreaks are easier to catch with a multi-tenant system. The automatic tools align new rules to monitor and create alerts. The forecast cloud computing is bright and eases the calculation of population health, chronic disease management, accountable care, and quality.
The Investment and Returns of EMR Software
Cost is always a concern, that's the reason for introducing the SaaS model. The hospital which works with budget-consciousness is happy with the cloud pricing model. The fact is EMR Software is an investment in your practice. It's the same as any other investment, as it gives results after a few months.
Advanced analysis helps you to justify the investment and create reports in quantifiable and non-quantifiable insights. It can improve efficiency by streamlining the administrative tasks – scheduling, billing, and communications.
It increases the revenue flow by accurately billing the service. The insurance claims are faster because of using updated ICD codes. Physicians can focus on their patients while the software supports creating clinical documents and charts faster.
Centralized chart management increases the detailed access so physicians make a clear-cut decision. It saves more time and helps employees to achieve higher productivity. The effectiveness of healthcare increases because of interoperability.
EMR Software is the most preferred tool for daily practice. Once patient data is moved from paper to digital space, it opens unintended benefits. User experiences are monitored continuously by designers and developers. They would interview the care team members and optimize the software to their needs.
Electronic Medical Records Software Is Always Best For Streamlining Medical Practices
Healthcare IT is created for a purpose to ease the workload of medical professionals. Thousands and thousands of people are visiting hospitals every day yet managing all of them is difficult. Providers are constantly looking for some technical upgrades to systematize the workflow. When all data is available at the fingertip, physicians can show excellence in patient outcomes.
Electronic Medical Records Software is a perfect match for doctors who want to show consistent performance in treatments. It can be interlinked with all healthcare supply chains, dealing with healthcare products and medicines. When there is any special requirement for hospitals they can easily track the availability of it.
Think of a situation where the patient needs AB negative; being a rare blood group only 2% of the population have it but demand is higher. Now doctors can find the requirements in a few minutes by ordering in the EMR Software.
The software is constructed in a way to have to and fro communication between users. When healthcare providers see any rare need in their network they can immediately sort it out with the right information. All this happens because of interoperability and it satisfies the global concern with sustainable solutions and reliable supply strategy.
Increased regulation leads to higher maintenance costs, Electronic Medical Records Software minimizes the cost and supports physicians and providers in their table with simple and effective user-interface. It can pull out any information you search for in a few seconds and the laboratory request and reports are delivered at the right time. Once the doctor approves the lab reports, patients automatically receive a copy of them in their PHR Software.
Healthcare providers deal with huge amounts of money and everything should fall within the law and regulations. External audits can play a good part but think of 24/7 audits while generating prescriptions and reports; if it finds some potential adverse effects then it notifies the physicians to change medications and suggest alternatives.
Carrying out a few tasks continuously can make you feel obsolete. Some practitioners claim that 60% of the work is the same in daily medical practice; having things handy can boost their productivity.
Electronic Medical Record Software contains predefined templates for multiple practices like appointment summaries, consultation letters, and prescriptions. Human errors are reduced and time is saved when any information is duplicated immediately.
Patients can bring their inputs from the patient portal to discuss whether they are following the right process or not and what further changes they should make to reach their health goals. Adapting the EMR usage gives increased efficiency to both medical and non-medical staff.
Read More :
Fast Performance of E-Prescribing Software Gives More Revenue