With Medical Billing Software Grow Your Medical Practice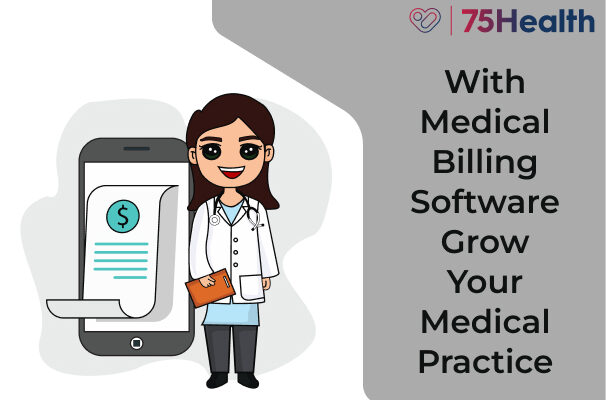 Hospitals across the world are looking for a way to grow their business. All they want is to find the right, satisfying and profitable solution. Physicians are busier today than at any period, new regulation paved that path. Healthcare IT came into reality when medical professionals needed some technological help. Thus, Medical Billing Software was found well-fixed to their needs.
Medical Billing Software is not just about billing the services but also handling the entire operation of a hospital. From patient admission to discharge follow-up, it needs to follow and track a large amount of data and yet it became easy. Interpretability is the best key for the modern healthcare system; it penetrates deep into data and validates the source before claiming into bills.
Your digital reputation and patient experience can attract new patients. Simply complaining turns into credibility, with the internet. When a patient is created satisfied with the service they become your best marketing tool – word-of-mouth referrals. It's extremely influential even in the digital age. Patients are willing to have instant conversations anytime they want with doctors like a grocery store purchase.
Whether you have just started with the practice or have been in business for years, it's important to gain patient trust. Medical Billing Software gives an easy and reliable way to track your physical activity and patient outcomes. It is interlinked with EHR, so lab orders and test reports are placed and received in a secured network. The encryption is tight with updated technology and government norms
It offers a comprehensive and effective solution for clinical managers. Busy physicians are handled in a most effective solution to increase both revenue and clinical reach. Your insurance claim is processed faster as the reports are tailored as per the claimable requirements. Each insurance company follows different practices so having different billing templates in the software makes all the positive impressions – it saves a lot of time and frustration.
Web-based Medical Billing Software provides two crucial benefits to its users – accessibility, and affordability. A dashboard is designed in a simple way to track performance progress and compare where your initiatives stand at any point. Along with online service, it supports phone calls and email services to ease patient queries. After-hour options are available anywhere now, even while traveling in the metro trains you can do the documentation process. HIPAA compliance makes healthcare organizations switch towards secure cloud- storage with existing systems. A simple click is all required to grow your medical practice.
Medical Billing Software is Indeed Best Solution For Laboratory & Clinical Needs
Healthcare IT is not only created for hospital management but also for laboratory and clinical support. It doesn't matter whether you are a laboratory expert or entry-level pathologist, you must evaluate the revenue and financial systems. You have to select the right system to do everything – reports, analytics, financial KPI, claims, referral management, etc. Medical Billing Software takes the place to serve all financial needs of hospitals and laboratories as it can safely communicate with other payment partners easily and effectively.
Laboratory Information System integration has become an absolute necessity and the software enables physicians to have a water-like interface, each operation moves smoothly and timely delivery is made. Any doctor who places laboratory orders with patient samples must use EHR for medical practice only then they can use interoperable features. It not only explains the systematic process, but the queries and results that can flow back and forth.
Medical Billing Software makes the staff select the right laboratory easily from the drop-down list and productivity is increased. Interoperability adds another layer of connectivity, and deep eligibility verifications ensure that revenue doesn't affect. The software links all the patient details and captures patient payments from insurance coverage and informs them about co-payments.
When the laboratory gives accurate results, the physicians give the most appropriate treatments possible. Medical Billing Software makes your laboratory results to be an honorable and worthy service. Your software shouldn't give just revenue but maximized returns. A rules-based program ensures a 100% claim rate on the first attempt and clearinghouse work becomes much easier when submissions are made exactly within the published rules.
It can track all the submitted claims and eliminate the guesswork of billing staff. The bills include only used services and no point in including additional services. Health insurance companies demand hospitals to edit and resubmit claim denials within 3 business days to process faster within that slot.
Your laboratory is also a business, and it needs appropriate financial management. Medical Billing Software can generate an array of user-defined reports. Staff can get patients' details and services used from the test room directly to compile the bill and they can also recreate them if needed. Reports are exportable to Excel and Sheets, so all stakeholders have access to the financial data and track down each specific activity.
Experienced doctors own long-term family patients and more people queue up in the waiting room, so they expect a perfect solution to strengthen their back-office operations. Medical Billing Software is a versatile one, as it assists people in managing appointments, remainders, referral visits, in-house hospital service, and aftercare sessions. It can coordinate and monitor patient meetings when the software tools are provided to hospital staff.
Medical Billing Software Can Address Labour Shortage Issues Without Affecting Revenue Cycle
Globally, a labor shortage is one of the biggest issues across industries and healthcare also faces that situation but advanced technologies make it easy for them, and operations managers are happy to work with synchronized tools. Medical Billing Software is not limited to administrative functions but extends across payment clearance. Accurate billing codes, denial management, credentialing experts are in short supply and expect some software providers to solve these technical issues and stabilize the revenue cycle.
Labour shortage issues can affect the revenue cycle as the minimum workforce can't handle timely filing and denied follow-ups result in delayed cash flows. Medical Billing Software handles core functions and optimizes hospital operations with quality assurance, on-time payment, and insurance reviews, which can additionally unlock revenue opportunities.
The hospital's billing software has already faced a lot of impact during the pandemic. After the year 2009, we have witnessed increasing reimbursement and financial outcomes because the management takes deep insight into patient service quality and duplicate therapies are completely avoided. Medical Billing Software eliminates the criteria to be vaccinated for reaching hospitals after COVID-19, and healthcare systems brought convenient systems to a patient to be confident in using no-touch medical practice.
Cloud-based IT infrastructures give a chance to operate remotely by gathering data from EHR and the platform is kept on to feed and analyze records anytime from anywhere. The adoption of SaaS-based Medical Billing Software gives the comfort to physicians to per the service they need and can upgrade additional if only they need.
The application of machine learning and AI technologies enables 1 or 2 staff to handle more tasks with no distraction as it can simplify repeatable tasks in a click. For instance, claim checking status is monotonous work but important to check regularly hence portal integration with multiple insurance companies can reduce calling workloads. When you free up staff from the same activities, they can focus on valuable activities to increase revenue and stakeholders get satisfaction.
Medical Billing Software measures, and monitors the productivity of all physicians and outcomes from each treatment they prescribe. Managing transactional productivity leads to gain in financial outcomes in the long term. It's all about strategic management of bills and patient care with a complete understanding of patterns involved in denied claims, root causes, and analysis revenue cycle by forcing providers to follow industry-standard report generation.
Organizations are looking to outsource their tasks to a trained and certified tool – Medical Billing Software. We get the benefits of progressive technology and service providers support the best financial practices to advance the revenue cycle.
Read More :
Clinical Revenue Can Be Increased By E-Prescribing Software