Medical Billing Software Keeps Providers Satisfied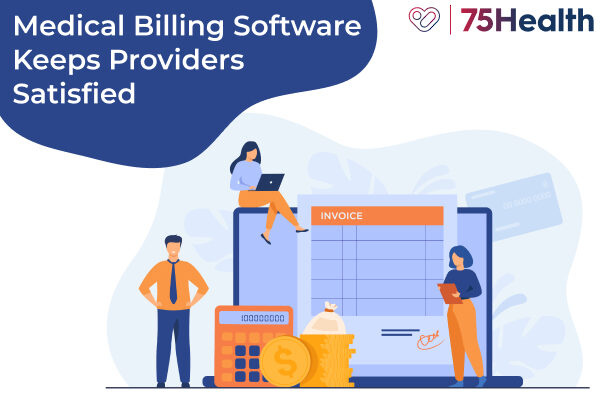 Medical Billing Software is a helpful tool in the medical community, and keeping patients happy is a vital strategy every healthcare provider is looking out for. In today's fast-paced world, it's more important than ever to stay organized and on top of your field.
To keep your providers happy, remember a few key things:
Make sure that your software is user-friendly. If it's challenging to use, medical professionals will become frustrated and may not want to use it again.
Always be available to answer questions or help with any problems. Providers will appreciate the extra effort and be more likely to continue using your software.
Keep your prices competitive.
If people can find cheaper options elsewhere, they will likely take their business elsewhere.
You'll build trust and loyalty with your customers by providing a good user experience and being available to help when needed. And keeping prices competitive will keep them coming back for more.
As a busy doctor, keeping track of all your appointments can be challenging. Medical Billing Software has an automated appointment reminder system to support the busy work schedule of doctors. This way, you'll never miss an appointment again and can focus on providing the best care for your patients.
In addition to ensuring that you never miss an appointment, it also frees up valuable time that would otherwise be spent manually reminding yourself or your staff of upcoming appointments. This way, you can focus on what's truly important.
Web-based Medical Billing Software supports healthcare providers with more patient retention strategies. Patient retention is vital to the success of any healthcare practice. The cost of acquiring new patients is estimated to be five to six times higher than retaining existing patients. Therefore, it makes good financial sense to focus on strategies to keep your patients returning.
One way to retain patients is by providing them with convenient appointment scheduling options. The software should allow patients to schedule appointments online or through a mobile app. This will save them time and make it more likely that they'll keep their appointments.
Another provider retention strategy is effective communication. Your web-based medical billing software must include features that allow you to quickly and easily send reminders about upcoming appointments or test results via text or email. Doctors should also be able to reach out to patients who have missed their appointments and offer them alternative dates and times.
Finally, you can use Web-based Medical Billing Software to create loyalty programs that incentivize patients to stay with your practice. By offering rewards for continued patronage, you can encourage patients to continue using your services instead of seeking care elsewhere. Additionally, Medical Billing Software helps in building the customer lifetime value.
How Does Medical Billing Software Drive Revenue?
Medical Billing Software helps to decrease the denials and increase the revenue stream. It is a strategic tool that provides automation in medical billing services, offering complete claims management. The reliability will generate revenue for the hospital.
The Medical Billing Software must be able to work with the hospital's existing systems and software. It should be able to quickly and easily generate invoices for patients and manage claims. Reports are generated regularly so the hospital can see how much revenue is generated within a particular period.
Physicians need to be able to focus on their patients and provide the best possible care. With medical billing support in place, they can trust that their claims will be handled expertly, yielding maximum reimbursement. This peace of mind is invaluable, allowing physicians to do what they do best.
It will completely handle all aspects of billing, from start to finish. This includes claims submission, denial management, and everything in between. This comprehensive coverage ensures that no claim slips through the cracks and that denials are dealt with efficiently.
Physicians can focus on patient care and ensure their finances are expertly managed. It includes documenting the services provided, coding them using accepted industry standards, submitting a claim for reimbursement, and collecting payment. The goal of Medical Billing Software is to get paid for your services.
A streamlined billing approach can help ensure that quality is met at each level of service. By clearly understanding the billing process and taking steps to streamline it, providers can improve their chances of getting reimbursed for their services.
In today's healthcare environment, provider reimbursements are often tied to the quality of care they deliver. One way to ensure that quality is met at each level of care is to streamline the billing process. By streamlining billing, providers can improve their chances of getting reimbursed for the services they provide.
Another approach is to develop relationships with insurance companies and other payers. This can help simplify the reimbursement process and ensure that claims are processed quickly and accurately. Medical Billing Software provides the dashboard where users can see all the claim status and contact information for further assistance.
By taking steps to streamline their billing processes, providers can improve the overall quality of care they deliver. This, in turn, can lead to improved patient outcomes and satisfaction levels.
Good Medical Billing Software can save the practice money and time in the long run. Patients also benefit from medical billing software, as it can help ensure that they are billed correctly and receive any insurer-mandated discounts they are entitled to.
Integration Of Medical Billing Software Benefits Your Practice
The medical world has changed a lot over the years. A few decades ago, most medical practitioners worked in small practices in one area. Today, they work as part of large institutions with multiple locations that draw patients from a wide area.
Still, many of the functions are more or less the same. Medical Billing Software includes processing patient registration and insurance claims, scheduling appointments, ordering lab tests and procedures, and more.
Electronic health records generate digital versions of a patient's medical history that any authorized practitioner can access. Similarly, Medical Billing Software accurately generates the billing process as it provides more coordination between practitioners and patients.
Furthermore, paperless medical billing is not only more efficient but it is also more secure. When patient information is stored electronically, it is less likely to be lost or stolen.
Medical Billing Software can save small medical practices time and money. With an automated system, practices can avoid the hassle of submitting claims manually and can receive payments more quickly. In addition, it can help to reduce errors and increase accuracy.
Small medical practices can benefit a great deal from Medical Billing Software. Here are a few ways:
You will reduce costs
Your practice will become more efficient
You will benefit from specialized technology
You will be able to focus on caregiving and treatment instead of wasting time on administrative matters.
Overall, the Software can be a great asset for small medical practices. Streamlining the billing process helps practices to run more efficiently and improve their bottom line. This is especially important for small practices that may not have the resources to invest in a dedicated billing staff.
Medical Billing Software can help to reduce the risk of billing errors and flag any potential errors. In addition, it provides transparency and helps patients to understand their bills. Consider a scenario where a patient is admitted to the hospital for a procedure. Once discharged, the patient will likely receive a bill that includes various charges for the services rendered.
If no Medical Billing Software exists, it can be difficult for the patient to make sense of the bill. They may not know what each charge is for and may be unable to identify any potential errors. With Medical Billing Software in place, however, patients can see a breakdown of each charge and can more easily identify any potential errors.
This Software also allows patients to see an estimate of what their insurance will cover, which can help them prepare financially for their upcoming expenses. In this way, Medical Billing Software provides much-needed transparency and peace of mind for patients and providers.
The Software can also help practices improve their patient experience. By streamlining the billing process, patients can get their bills faster and be more likely to pay them on time. This can help practices improve their cash flow and reduce accounting and administrative costs.
Read More :
EHR Software Optimizes Your Healthcare Routine