Hospital Workflows Is Improved By E-prescribing Software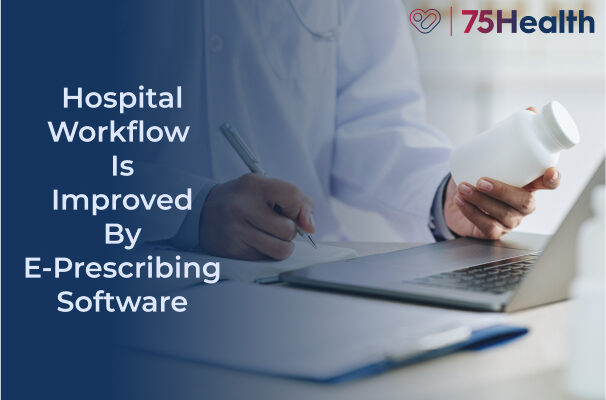 E-Prescribing Software is specialized in creating accurate electronic prescriptions and ultimately saves time, paper, patient lives, and eases physicians' work too. More than 7,000 deaths are linked with prescription errors. When a clinical organization uses this web-based tool it eliminates all kinds of human errors involved in prescriptions.
E-Prescribing Software Improves Business Processes & Clinical Actions
Physicians are given full control over the entire clinical system and authorize different permissions to add or edit prescriptions. Also, individuals can access patients' other medical records based upon their assigned roles and responsibilities within the medical team.
Auto synchronized system eases the record identification process in all healthcare systems and is pulled from any database at right time.
In a single click, complete ongoing medications are reviewed and medication plans are changed according to the patient insurance eligibility.
After the virtual or live consultation, patients can receive prescriptions in their Personal Health Records. Additionally, certain clinics give the option of sending prescriptions to patient preferred pharmacies to ease the dispensing process.
Patient safety is prioritized with on-screen caution messages that regard potential drug interactions, allergies, and other overlap issues. To increase the value offered, alternative medications are suggested within a fixed range.
E-Prescribing Software promotes cost-effective practices through two-way communication across the healthcare industry – medical specialists, pharmacies, nurses, and front-desk staff. The rapidly increasing adoption of digital healthcare solutions allows providers to identify and monitor the usage of controlled substances.
Clinics and hospitals are qualified for government-backed initiatives and programs with easy tracking and organizing policies for higher safety standards.
E-Prescription Software classifies potential overlaps of medication i.e., polypharmacy and spots all reported other allergies over their entire lifetime.
The software eases patients with a simplified appointment scheduling process through mobile and web-based applications. During the contagious outbreak, patients can avoid pharmacy visits and prefer doorstep delivery with direct linking of EHR and pharmacy.
Physicians can see every staff work flowsheets to track relevant data in a single window without any discussion. The software functions are customized and make it easier to get connected with nationwide laboratories and imaging centers. It saves time in operating efficiently just by focusing on physician needs.
No paper printouts are required until it's mandatory. The digital platform gives complete control to providers, physicians, and patients to see any medical report with strong encryptions. E-Prescribing Software has drastically reduced the paper facilitation for any document circulation.
Pharmacists Are 100% Satisfied With E-Prescribing Software
In today's world, regular advancement in technology takes place to streamline the scattered process and finally increase patient care quality. Hospitals, clinics, and pharmacies have switched to E-Prescribing Software to reduce medical errors and fit into the modern healthcare guidelines.
E-Prescribing is an efficient way for doctors and pharmacists to interact and digital files are saved immediately to patient EHR. Doctors electronically sign the prescription and pharmacists can ask any questions and get immediate answers. A complete patient portfolio is updated in a few clicks because of pulling all the resources and creating the string to work on.
Easy Prescribing
Today, more than 66% of the prescriptions are filled with text-free content so both pharmacists and doctors find it easy to access and free of irrelevant information. E-Prescribing The software makes it easy and simple to get information straight without any conflict, especially for dosage and instructions.
The pharmacist looks into the appointment summary of patients to clearly understand the medicines needed. E-Prescriptions exchanged are maintained in SCRIPT standard, authorized format by NCPDP.
Clear-Cut Workflow
The quantity qualifier field helps the doctors to give clear instructions to the pharmacist on how many tablets must be dispersed. The same information in the notes field is not sent again to make them confused.
E-Prescribing Software avoids contradicting information and facilitates bidirectional communications. It supports the organization with continuous user training, service response, surveillance and monitors the software effectiveness.
Pharmacist Involvements
In adopting E-Prescribing Software in medical practice, pharmacists play an important role. Only pharmacists share refills experience and give the inputs what must be made further clear. By doing so, the software becomes more effective and risk levels are reduced. Pharmacists know the drawbacks while generating prescription orders.
Accurate Dosages
Medicines prescribed for children must be based on body weight and height. E-Prescribing Software helps doctors consciously prescribe, and conversations are made with mg/kg/day format.
A Sig code is a common language used for communication between doctors and pharmacists. Examples: QD (once a day), TID (three times a day), and PO (by mouth), and many more are authorized by Medicare officials.
Key Benefits of E-Prescribing Software
One-step pharmaceutical dosage solution
Ratios and proportions of dosage calculation
User-friendly platform
Access medication history
Using the national drug code directory
E-Prescribing Software enhances the safety and quality of patients in ambulatory care by integrating with the electronic health record system. It reduces errors, increases efficiency, and saves money on healthcare expenses. With astounding benefits, pharmacists are happy with current features and benefits.
E-Prescribing Software Can Serves All Modern Requirements
The global market for E-Prescribing Software is expected to reach $3.3 billion. The main key to this huge market share is the benefit of minimizing the risk factors and maximizing patient understanding. Healthcare operations require a lot of effort to integrate with the right digital platforms.
The complication of covering data security, international standard compliances, filing boards for faster reimbursement, and comprehensive data for patients to easily check on. Even after implementing the digital prescription system medication errors are not reduced as expected.
The reasons include illegible handwriting, poor healthcare systems, forgetful patients, ignorance of all medical history, inexperienced pharmacy managers, etc. Altogether, these errors sum up to a huge number of $42 billion every year.
Also, another evil point is the increased mortality rate. Deaths are due to improper medication. People in the range of 30,000 to 88,000 die every year in the United States alone. Just imagine the global count!
Post COVID-19, the introduction of telemedicine technology has demanded all-in-all one application for prescribing, record maintenance, administration management, report generation, and order placement in laboratories and pharmacies. More remote consultation is happening than ever before and roughly accounts for a 42% increased number.
Why Is E-Prescribing Software So Special Even, Today?
The purpose of E-Prescribing Software is to generate and send a digital prescription to a pharmacy and patient portal respectively. It ensures the protection of patient data, the creation of more time for additional consultation, and supports a standard dictionary for auto-correcting drug names and ICD codes. Every function makes the whole process an effective solution.
The advanced online technology guarantees flawless communication between healthcare and pharmaceutical care workers. A key advantage is every move is recorded and sent to both ends. Transparency builds trust and customers turn into unwavering people.
E-Prescribing Software directly sends an online prescription to the main secured server. After recording the details, it transmits the data to the pharmacy through order placement.
The Paperless Way
E-Prescribing Software is required to maintain a confidential database as per the legal security requirements. It stores patient history and medical chat messages in regulated encryption.
Certain regulatory legal acts provide stronger rights and freedom to patients like HIPAA, GDPR, FHIR, and DPD. Even remote patients' status is continuously monitored and new actions are made in one click. Additionally, through My Health Records patients can check prescriptions; receive reminders and other medical information, and clear bills through online payments.
E-Prescribing Software gives more space to doctors to continuously improve in various directions. With a click, new electronic appointments are fixed in between the existing schedule. Easy track of admission time, dosage, informational reports, and studies of more patient histories.
Even pharmacists are benefitted through eRx Software as all financial transfers, delivery details, order origin, and prescribed doctor details are recorded promptly.
Even after a decade, E-Prescribing Software is still a relatively new data source for practitioners. Few use it for basic purposes in remote areas and few use the same software for advanced treatment for better contributing outcomes.  Clinical quality can be tracked electronically and every bit of healthcare information about a patient is pooled to a centralized source.In conclusion, E-Prescribing Software can be an effective tool for improving hospital workflows. By automating many of the tasks associated with prescribing medications, e-prescribing software can help to improve accuracy and efficiency of prescriptions. Furthermore, the use of electronic prescriptions can reduce the risk of errors and help to improve patient safety. The implementation of e-prescribing software can provide a range of benefits for hospitals, from improved patient safety to cost savings.
Read More :
EMR Software Improves Healthcare Journey