E-Prescribing Software Improves Timely Medication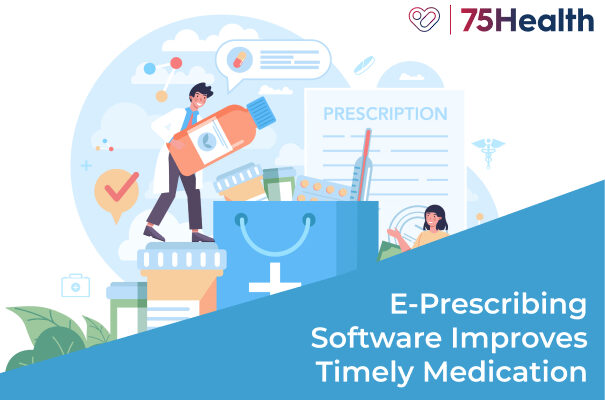 E-Prescribing Software has revolutionized the healthcare industry by making it easier and faster for doctors to prescribe medication to their patients. However, many benefits of e-prescribing still have yet to be realized.
One of the essential benefits of e-prescribing is that it can help to reduce the time it takes for patients to receive their medication. Prescriptions must be verified by a pharmacist before providing the respective medicines. This process can often take several hours or even days.
E-Prescribing Software can help to improve communication between providers and patients. For example, patients can receive automatic reminders about medication refills, dosage instructions, and appointment follow-ups.
It can also help providers keep track of a patient's health history and medications, improving the quality of care. In addition, e-prescribing can help reduce errors, such as prescribing the wrong medication or dosage.
E-prescribing can also save time for both providers and patients. While it comes with many benefits, there are also some potential risks. It improves patient safety, reduces medication errors, and improves communication by saving time for both providers and patients.
E-prescribing can also help to reduce the overall cost of healthcare. It reduces the medication cost where providers can compare prices more easily and choose the most affordable for their patients.
E-Prescribing Software can also help to improve providers' access to information about their patients' medications.
5 Best Benefits Of E-Prescribing Software
E-Prescribing Software is a crucial part of any modern healthcare organization. By automating the prescription process, it can help improve patient care and increase prescribing accuracy.
There are many e-prescribing software, and choosing the right one for your organization can be a daunting task.
It can also help to streamline communication between different members of a healthcare team. By providing a central location for all prescriptions, it can help to ensure that everyone is on the same page. 
Clinical Benefits: It can help to improve patient care by providing clinicians with access to up-to-date information on medications and their clinical effects. It has the potential to verify the accuracy of prescriptions and to verify that the prescribed medications are covered by the patient's insurance. 
Increased Productivity: It can help to increase productivity by reducing the time needed to fill prescriptions and ensuring that the right medicines are prescribed for each patient. It can help to reduce medication errors by providing real-time alerts for drug interactions, allergies, and dosing errors.
Easy to Use: It is easy to use, which reduces the training time needed for new staff members and helps to ensure that prescriptions can be filled quickly and accurately. It ensures that patients receive the medications they need in a timely manner.
Right Medications: It can help to ensure that patients receive the right medications by providing access to accurate and up-to-date information on medications. Healthcare providers can use Electronic Prescribing Software to send reminders to patients about taking their medications, track patients' drug adherence, and monitor for side effects. 
Care-Based Prescriptions: It can help to create care-based prescriptions that take into account a patient's individual needs and preferences. Other benefits are improved patient outcomes, increased communication between patients and healthcare providers, and the ability to tailor prescriptions to the individual needs of each patient.
However, care-based E-Prescribing Software is not without its challenges. In particular, care-based prescribing can be time-consuming and resource-intensive. But, it is important to carefully consider the benefits and challenges of care-based prescribing before implementing it into clinical practice.
E-Prescribing Software Identifies Drug Allergies
In a world where technology is constantly evolving, it's important to stay ahead of the curve. Allergies can be unpredictable and dangerous, so having a tool to help identify them is crucial. The E-Prescribing Software is also beneficial for those who are taking multiple medications.
With this software, clinicians can input all of a patient's medications, and the software will identify any potential interactions.
People check the allergy information before consuming new food, but some don't realize it should be same with the medicines. Checking the allergy information before using a new medicine can prevent a potentially dangerous or uncomfortable situation.
Use effective E-Prescribing Software to check dosage and frequency according to the patient's health condition. Aside from dosage and frequency, there are several other things to consider when prescribing medication to a patient.
Another thing to consider is the patient's age. Certain medications may not be appropriate for young children or the elderly. In these cases, you will need to find a safe medication for the patient.
E-Prescribing Software improves medication adherence. The software can help to ensure that patients receive their medication on time. Additionally, it can help to ensure that patients receive their prescription medications at the correct dosage
Also Read : Convenience Is The Key Of E-Prescribing Software