E-Prescribing Software Gives More Time To Its User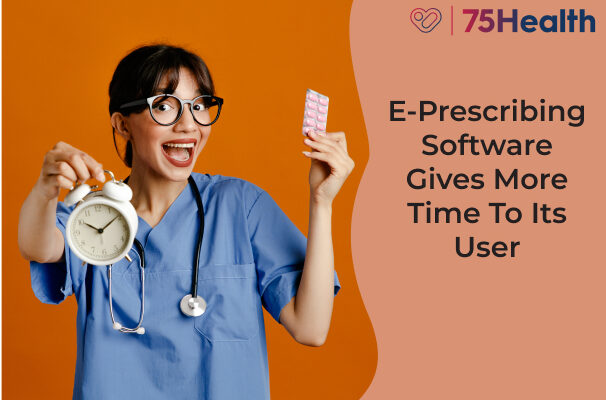 Today the medical industry got the most advanced technologies and the results are achieved far from the past statistics. E-Prescribing Software gave extra hands to doctors to access healthcare information with a finger click. Patient history and medical treatments are accessed at the same time so doctors can prescribe the right medicines without adverse effects.
The goal of electronic prescribing technology is to create a better medical chart in an understandable way for both pharmacists and patients. Patients have started showing interest in understanding their medical reports. This moves the engagement needle to healthier practices and a good lifestyle to deal with chronic diseases.
Embraces Digital Environment Through E-Prescribing Software
The increased access to healthcare practices over the web-based application has become a powerful tool. It is highly desired by physicians as they can use it anywhere. It brings more advantages to prescribers to implement telemedicine and telehealth in organizations embracing technological changes.
Electronically sending prescriptions can drastically improve the workflow and communication to the pharmacy is made quickly and efficiently with authorization. All these steps are brought into action within a few seconds after hitting send. Also, resources are used properly by avoiding the traditional stresses of fax, and mailing systems, and making phone calls to transmit paper prescriptions.
E-Prescribing Software constantly improves the safety and quality of care. It minimizes drug errors by adopting a digital system that eliminates handwritten and illegibility issues. It allows the medical organization to collect full medication history automatically and accurately. Elderly patients cannot recall or submit medication records.
It contributes to prescribing safer prescriptions by alerting every drug to drug and drug to condition interactions. These alerts could save a patient's life. Also, the software is designed to ease the workload of billing, insurance claims, and finding duplicate therapy conditions.
E-Prescribing Software saves money and increases patient satisfaction. It can even suggest alternative medicines to patients as per their budget limit. It can see the pricing list of every medication at the patient's specific pharmacy. Even the potential alternatives are suggested after being analyzed as safer medicines for their existing allergies.
This saves the valuable time spent changing the prescribed medication when found its price is too high. Physicians can enter any Sig information, just like writing in a paper prescription. Sig tools give real-time paper prescription style. It improves the functionalities by standardizing every medicine prescribed.
Improved productivity provides automation tools like medication renewal, authorization process, and instant insurance verification and eliminates monotonous work. E-Prescribing Software makes the medical staff focus on the important task rather than small daily duties.
Essential Benefits Of E-Prescribing Software
E-Prescribing Software helps doctors write prescriptions and transmit them electronically to patients and other healthcare providers. It facilitates a medicine order, enabling the pharmacist to fill it electronically by sending the information directly to the electronic medical record.
Electronic Prescribing offers essential elements to emphasize the computerized analysis of each medication and treatment prescribed against the patient's existing history. This can improve medication quality and enables the automatic transfer of patient data between multiple patients.
Everyone must consider the rapid growth of Web-based Healthcare Software because of its benefits to patients and the medical field.
Fast-Paced Efficiency
E-Prescribing Software takes only a few seconds to generate e-prescriptions than writing out a paper prescription. Additionally, its legibility eliminates the time spent answering pharmacy calls to confirm the medicines.
Prior Authorization and Refill Requests are the two critical features exhibited in the doctors and patient care and treatment involvement, respectively. E-Prescribing Software enables doctors to review and authorize 15-30 refills quickly.
Another critical factor of web-based software is integrating with Electronic Medical Record Software directly. By doing so, many physicians are streamlining the organization's overall workflow in a simple and effective platform.
Physicians can communicate on the internal messaging platform to build a successful relationship with patients. It saves time and costs by reducing follow-ups for minor checkups and doubts that can be cleared.
Medication adherence is a powerful feature that seamlessly checks prescriptions whether it follows recent government orders and provides confidence and convenience for patients to use a particular organization's services easily.
Also, it allows the providers to suggest budget-friendly alternatives to patients to increase client satisfaction and reduce their financial burden. The key to the modern healthcare system is providing instant substitution for medications, reducing the cost to patients and insurance companies.
It helps to manage medications better, keep track, and connect to the pharmacy or other seamless supply chains. After the pandemic, people prefer online and hands-free services instead of physical interaction with the shop. The effective system facilitates the decision-making process, and users can smartly handle the situation with the proper evidential insight.
The software can enhance its capability as per the requirement of the user. Providers can check patients' insurance status when starting the treatment itself. Revenue systems and cost-efficient medication plans are benefitted from these tools.
E-Prescribing Software can prescribe events at the time of discharge of the patients from a secondary care facility. However, the proper implementation provides an error-free healthcare delivery process. It gives a complete insight into a patient's health and medication consumption with a single tap.
E-Prescribing Software Makes Effective Patient Care
E-Prescribing Software is a tool used to enhance the efficiency of patient care and manage the communication between primary care providers and patients. It creates a workflow system for physicians, nurses, and pharmacists to use the latest technology and provide accurate medications to patients.
The widespread adoption of Web-based E-Prescribing Software is likely due to some factors, including federal incentives and requirements for using Health Information Technology.
One key advantage is the affordable price, which entry-level doctors can easily purchase and implement for their daily practice. The next one is the expansive model, as eRx can be customized to any clinical size without spending additional money.
Also, E-Prescribing Software helps ensure that patients receive the correct medication, in the right dosage, and at the right time. The software saves time and reduces costs associated with prescribed medicines by reducing paper prescriptions. This results in fewer errors and better patient outcomes.
They also help ensure that patients receive the correct medication, in the right dosage, and at the right time. The E-Prescribing Software enables easy communication between providers in real-time. It supports workflow with automated notifications and an instant alert system from the pharmacy.
EHRs have the potential to improve patient safety by using E-Prescribing Integrated EHR Software helps to reduce the chances of prescriptions being handwritten incorrectly or lost in transit. In addition, it helps the physicians to avoid prescribing medications that may interact with each other or that the patient may be allergic to.
Prevents Medication Errors
E-Prescribing Software has many ways to prevent medication errors from occurring.
One way is to ensure that patient's medical history and prescriptions are double-checked before prescribing any medications. So the patient is not allergic to the medicine.
Another way is having a standardized system for documenting medications dispensed. Software strictly follows the latest changes in medication regimens and procedures to avoid any confusion or mix-ups.
To avoid the long waiting time and frustration, hospitals can implement Electronic Prescribing Software. This allows doctors to manage every patient's time effectively by giving them accurate appointment timing, and prescriptions are directly sent to pharmacies.
Doctors can choose to have a dedicated staff member, or they can directly send filled prescriptions to patients promptly. This proves that technology helps doctors to balance their work life.
E-Prescribing Software automates some of the tasks associated with prescription writing and rectifies the errors spotted by checking patients' allergies and drug interactions and calculating dosing information. All of this happens without the doctor having to leave their patients' side, which improves communication and care in the healthcare setting.
Read More :
EHR Software Can Be Used As Multi-Tasking Machine
Can Medical Billing Software Add Value To Mental Health Practice?