EHR Software Can Be Used As Multi-Tasking Machine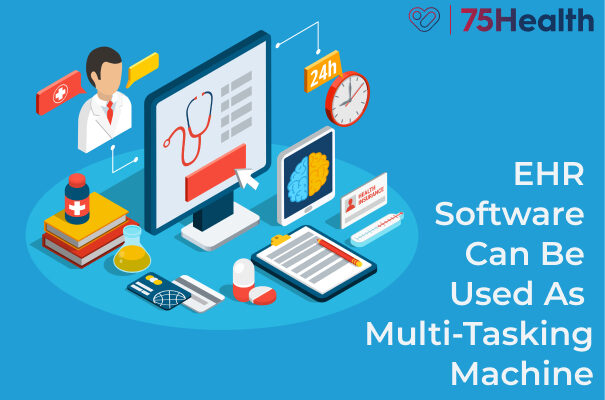 Physicians and medical organizations are forced to work with multiple patients at the same time. Data maintenance is only possible with EHR Software as it easily flexes, collects, and organizes data in a perfect structure. Multitasking is an essential skill for clinical work but only limited technology supports it. 
Electronic Health Record Software largely impacts clinical work with easy human-computer interaction. This improves efficiency and task performance from patient wellness to doctors' productivity. There are direct changes by multi-tasking, and mechanisms guide the measurement of every task.
Improved Accuracy
EHR Software helps different types of doctors reduce medical errors by bringing more clarity to medical records. The software follows guidelines to properly document records digitally and store exact information like medication type, treatment duration, symptoms, ongoing therapy, surgery specification and severity of coronary artery disease, etc.
With accurate information, effective treatment can be started. EHR Software displays patient demographics, clear signs, symptoms, lab tests, and results. The chances for duplication are reduced as information cant be overlapped.
Treatment plans are described in a clear and understandable format by including medication details, what dosage level the patient's body responds to quickly, what medication type is best, what food type can prevent adverse effects, alternative treatment plans, etc.
When all this information is provided doctors can improve overall healthcare quality. Patient portals are linked directly with EHR so patients' caretakers are immediately informed to make better decisions.
EHR supports all activities through various interfaces and improves quality management. Note Author gives the doctor to put clinical insights about the patient illness and additionally image evidence is attached in a single click.
Generate Bill From EHR
Billing information needs complete medication history like what treatment was given, performed test, surgery, and medical practitioner details. EHR helps clinical surgeons and patients to claim respective insurance with the right evidence. It becomes so easy to access digital information and compensation is made at the right time.
Case Discussion
Field experts and specialized organizations can be informed priory about the patients' details through encrypted profile sharing and valuable actions are taken for faster recovery, ensuring safety and reducing the risk factors.
Minimum Follow-ups
The software is designed to allow medical practitioners to collect data from home monitoring devices and new medical charts are uploaded exactly. Through Electronic Health Record Software regular monitoring is possible and doctors can decide whether a patient needs any hospital visit or just a prescription refill is enough.
Preventative care enables patients to be prepared for chronic disease and avoid health emergencies. The idea is to make people healthy by analyzing their daily habits and emotional behaviors.
For example, Heart disease is caused mainly by poor nutrition and obesity. When it is found possible then a proper diet plan must be followed and regular visits are required to maintain health standards.
Prescription management is important for claiming insurance and the pharmacist doesn't need any further approval by calling and conforming with the doctor.
Improved Communication
EHR Software supports hospital management in multiple ways, one such support system is better communication by streamlining data across departments. From the doctor's desk, the files are transferred to the lab to perform a specific test, only the patient has to go there and follow the instructions.
It captures all the data from the point-of-care and serves as the best platform to infer whenever required.
Doctors can assign a special care team to control patients' primary medical needs and floor managers are given access to patient health records to monitor patient graphs. They can be given a detailed to-do list to support the master plan.
Advanced traverse care settings support seamless interoperability of patients from different healthcare origins. They can be easily migrated with no loss of data as AI provides logical workflow and demands a timely decision.
Live Hospital Atmosphere
EHR Software brings to you the entire hospital atmosphere in a single webpage. If a patient needs to ask any queries with hospital staff, they can communicate with front-desk people through a patient portal.
It notifies the screen of upcoming medical encounters like follow-up appointments and lab tests. Lab results can be directly collected and doctors can add reviews easily.
Today, technology guides us to buy the best pair of shoes and shows a good dining place as per our interest. By allowing ourselves to follow, we reach our destination without any wrong purchases.
EHR Software follows the latest treatment code and all hospital services are updated on every device so the medical staff doesn't even bother about updating new guidelines. Truely, EHR supports doctors on multitasking. This provides safe, high-quality, and affordable healthcare services to all layers of society.
Greater Efficiency For Chiropractors By EHR Software
Chiropractic is an increased healthcare profession that gains more attention on social media feeds. Physicians are specially trained in treating the neuromusculoskeletal system of patients who have some problems in their muscles, bones, nerves, and ligaments. EHR Software offers several benefits to chiropractors to run their clinics more efficiently and documents are organized neatly.
EHR Software Enhances Patient Care
EHR Software gives advanced patient care by easily diagnosing and tracking patients' progress. Chiropractors are generally busy with reading more medical images of a patient and the software helps them to easily access digital versions. Doctors can quickly review any patient's history and treatment plan on a single page.
Information at your fingertips contributes to the best possible care. EHR Software not only automates daily monotonous tasks but also empowers patients to see their health information through web portals rather than waiting for paper-based reports from hospital staff. Even educational resources are linked to patient reports to make them self-aware of their issues and improve overall wellness.
Electronic Health Records Software strengthens the communication among healthcare providers, nurses, and administrative staff with aligned roles and responsibilities inside the software. This minimizes the risk of errors and maximizes overall productivity and individual performance.
Even today there are certain areas where doctors are afraid to use third-party software as it can leak patient information vulnerably. Commonly, they are not aware of increased security and confidentiality law enforcement by the government. By using EHR Software in smaller and individual clinics, they are qualified to claim financial incentives.
The software is easy to use and learn from the first interaction itself as it prioritized user experience highly by aligning a virtually self-explanatory system. Just see the name and click it for faster transactions and make things easier. This kind of workflow can make everyone free to take care of more patients and increase clinical revenue.
Efficiency is all about saving time and money and EHR masters it well. When doctors have extra time they can attend to additional patients which expands the profits growth and multiples the customer base.
After educating about the patient portals, patients are more likely to schedule appointments over the internet. Also, this system informs front-desk staff about the no-shows and last-minute cancellations so they can take immediate action to reschedule some appointments.
Another way that Chiropractors get more efficiency is by creating satisfied patients by saving more money and preventing costly errors that were unnoticed in any claims. Simply, EHR Software can create wonders for your physiotherapist, physical therapist, naturopath, acupuncturist, and neurologist treatments.
How EHR Software Integrates Protocols Into Practice
EHR Software has integrated protocols into practice to standardize the medical documents that hospitals, clinics, and other medical facilities use to do business. In recent years, EHR Software has been a game-changer for medical practices as practices can streamline their operations and provide better care to patients.
Protocols are an important part of all medical products practiced by doctors and healthcare organizations. It ensures that everyone is on the same page and that procedures are followed correctly according to government norms.
Benefits of Protocol Compliance
Standardized record is one of the benefits of integrating EHR Software with hospital management software, and it becomes easy for everyone to access and follow them.
Practices run smoothly, patient care is improved, and overall efficiency is increased. It's no wonder that EHR Software is becoming more and more popular in the medical world. It is designed to help medical professionals seamlessly integrate medical records into workflows and keep track of protocol compliance.
EHR Software allows practices to manage all patient documents from a central system. It provides several benefits to medical procedures when working protocols and records. First, Electronic Health Record Software can store all of its protocols and documents in a secured system and ensures easily accessible whenever required.
Second, EHR Software helps doctors to improve patient care by having the most up-to-date information available.
Finally, it tracks how clinicians are accessing and following the clinical protocols. Also, it ensures that everyone is on the same page and working towards the same goal of providing high-quality patient care.
Monitoring compliance leads to high-quality patient care. Also, Administrative officers can identify the gaps in compliance and can take action to improve overall performance.
EHR Software can create custom templates and workflows, automate repetitive tasks, and track clinical outcomes. This can save time and improve efficiency across the entire workplace, allowing clinicians to focus on providing excellent patient care.
Ultimately, EHR Software can set itself up for success in today's highly competitive healthcare environment. It is a valuable tool for making decisions and allows them to communicate, share, and coordinate care with the care team.
EHR Software must possess the ability to interface with other systems within the organization, such as laboratory and radiology information systems, and provide critical data with a click. Additionally, it must match the legal and regulatory requirements of the country or region.
Read More :
Can Medical Billing Software Add Value To Mental Health Practice?