EHR Software Eases Documentation Burdens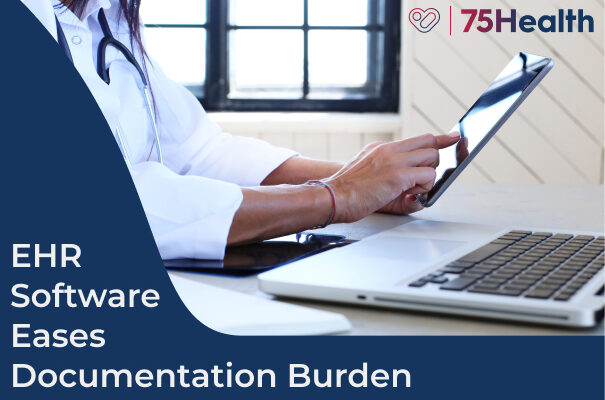 Healthcare systems have digitally evolved as a trending topic in today's customization. EHR Software unfolds numerous benefits for better care coordination and accessibility. The in-app messaging tool is used for communication with providers, physicians and patients. Also used to send and receive confidential health records across country borders and boundaries.
EHR Software Improves Clinical Documentation
EHR Software offers several benefits but improving the quality and utility of clinical documentation is best one. The tool can be used for enhancing the documentation standards.
Benefits
EHR documentation enables quick access to patient records for more coordinated care.
EHR documentation improves the billing and coding process effectively.
It provides accurate and updated patient's health information during the time of care.
It enables secure health data sharing between providers and healthcare settings.
EHR documentation helps providers to reduce medical errors and provide quality care.
It enhances the privacy and security of patient health information.
Clinical documentation supports patient care, improves clinical outcomes, and enhances interprofessional communication. When you document your assessments, plans, and actions, you rely on nursing practice standards, organizational policies, meaningful use directives, and a variety of quality criteria.
Electronic Health Record Software support that documentation with data that help you enhance patient safety, evaluate care quality, maximize efficiency, and measure staffing needs.
Documentation templates can play an important role in improving the efficiency of data collection, ensuring all relevant elements are collected in a structured format. Templates may not exist for a specific problem or visit type. This issue can occur if the structure of the note is not a good clinical fit and does not accurately reflect the patient's condition and services.
The documentation integrity may get affected when the wrong information is documented on the wrong patient health record. Errors in patient identification can affect clinical decision-making and patient safety, impact a patient's privacy and security, and result in duplicate testing and increased costs to patients, providers, and payers.
Organizations must have a patient identity integrity program that includes performance improvement measurements that monitor the percentage of error rates and duplicate records within their electronic master patient index.
EHR Software has customizable documentation applications that permit the utilization of templates to help with documentation. Unless these EHR implementation tools are used correctly, the integrity of the data may be questioned and even perceived as fraudulent activity.
So to resolve this, the healthcare providers must understand the importance of reviewing and editing all defaulted data to ensure that only patient-specific data for that visit is recorded, while all other irrelevant data pulled in by the default template is taken out.
Futuristic Benefits Of EHR Software
Just think of restructured Electronic Health Record Software, how it looks like? Obviously, the best features of Electronic Health Record Software are still in the evolving stage. EHRs are generally good at maintaining medical records – all small details of patients are recorded.
Still, improvements can be made by healthcare providers to set what results they want. When it is accounted for in the software development cycle, EHR becomes an evident tool for all healthcare layers to improve the quality of care.
Electronic Health Record Software is an organized collection of public health information, under individual profiles, stored in digital format. All the entered data are allowed only by authorized users so it can be used as a piece of evidence for a different purpose. The Healthcare IT industry is inventing many new features now and then to attain the best human possible treatment.
Benefits
People face different medical scenarios and all range of medications and treatments should be available in the library preset. Minute details of patient circumstances and preferences should be preloaded in the Web-Based Electronic Health Record Software so it encourages medical staff to handle patients more carefully at unknown conditions.
Based on the patient's demographic and social behaviors, medical plans can be optimized. To give the best example is: A patient with controlled diabetes will have a different plan from the one who is upset to control blood sugar level.
Automation tools can be used with advanced algorithms to form comprehensive plans. It's so rare to see a patient with one medical issue alone; generally, people have a minimum of two to three issues to manage at the same time. Creating a master plan in EHR Software helps doctors and medical staff to treat each issue effectively by calibrating drug substances.
Assign a special care team to control patient primary medical needs. Case managers can be given access to patient health records to monitor health behavioral changes. They can be given a detailed to-do-list to support the master plan.
Advanced traverse care settings that support seamless interoperability of electronic health records. Patients can have different healthcare origins; they can be migrated into any Electronic Health Record Software easily with no loss of data.
Artificial intelligence gives logical workflow and demands a timely decision from medical practitioners. Web-Based EHR Software must notify the screen of upcoming medical encounters like follow-up appointments and lab tests.
Based on the patient goal, suggestions can be displayed with variations in medical metrics and current patient conditions. An appropriate care team will be informed of the changes in patient health and conscious care can be minimized.
Transforming Healthcare Practices Through EHR Software
The rapid digitalization of the healthcare industry has created a large amount of data added by patient records, medical reports, prescriptions, and other medical care. Now, software companies are taking so much time, money, and effort to create an extraordinary platform to organize and structure all medical information.
The modern world needs modernized ways to collect, analyze and categorize data under proper and respective patient ID. Mobile-based applications are prioritized by every software company to give the same desktop feeling in finger clicks. The mandatory requirements made applications to improve the healthcare quality.
EHR Software simplifies all large and complicated data to easily manage in our existing device and minimizes the management cost. Accessing speed is a key element that produces magical results in the user interface. Healthcare is the only place that holds different data types and EHR Software supports the speed at which it is required.
Better health care is achieved by improving all aspects of patient care through patient-centered software
Software must allow every data type to support clinical decision support systems because it needs the analysis of physician's notes, prescriptions, medical imaging, laboratory results, insurance, pharmacy benefit management, etc.
Better Quality Of Care – EHR Software
Electronic Health Record Software identifies associations, patterns, and trends inside the data. The results can help physicians to suggest differential methodologies to improve care and save more patients with suitable resources.
EHR allows medical teams to have stronger research capabilities and extract accurate insights about patients. Advanced algorithms use the right data to recommend the right medicine and this empowers doctors to make the right decisions.
EHR Software Increase Treatment Progress & Effectiveness
Technology helps physicians from one place to discuss the case study to any desired medical professional network. It can easily get answers to medically complicated cases with deep suggestions and other instructions.
It is valuable and practical information meant to improve patient safety and satisfaction. EHR Software comes with integrated portals and scheduling systems to send reports directly to patients and reduce waiting times. More than improving productivity it helps both patients and physicians to have effective communication.
EHR comes with useful features such as e-prescribing, patient portal, medical billing, and other management tasks. Each feature is created for a unique purpose and elevates the medical practices to the next level. This allows patients to receive prescriptions, records, and other formats online in an easily accessible format.
More Simple, More Effective – EHR Software
Physicians are handling more scenarios and patients every day. They need a simple user interface but it must support advanced features. They are patients who have a complicated medical history and many of them carry chronic diseases.
EHR Software generates easy and accessible digital records which allow the physician to review a comprehensive file. It tells all the aspects of a patient's treatment plan. Also, it contains familial histories, lifestyle factors, mental health status, and past surgeries. Every bit of information supports making decisions.
National Center for Health Statistics recorded 72.3% of physicians are using certified EHR Software
Today, the majority of the daily used application contains default content as it can be customized as per the need of local staff. It provides a standardized format across all primary care clinics, specialty clinics, public health clinics, private clinics, etc. Even individual physicians can change setting to match the insurance standards.
Templates are created with guidance and fully integrated with workflow. Interruptive alerts are drastically reduced yet inform for essential steps. Charting templates guide without interference.
Following current medical templates provides a financial incentive for healthcare providers
Laboratory orders are initiated from the doctor's desk with greater speed. This includes direct prescription orders to the pharmacy. EHR Software saves more time on everything and eventually cuts confirmation calls from a pharmacy. Also, every medicine is prescribed through drug name, dosage, route & frequency. By the time a person gets to the pharmacy, their order could potentially be ready.
Accurate System
Accuracy and security are perfectly provided by EHR Software. This helps the doctors to generate accurate bills and the chances of claim submissions are high. Electronic records capture every resource usage more accurately and third-party services can be reduced to an essential level. This can maximize the revenues and manage preventable diseases.
This directly improves the quality of care with proper identification before screening a patient. It can suggest preventative measures by revealing earlier life-threatening diseases. With this, patients become more aware of how to manage risks through proper education in their respective patient portals. Advanced programming languages are used to identify the behaviors and risks involved.
EHR Software Transforms Clinical Process
EHR Software provides high-quality care through the clinical process by transforming many manual and stressful situations. EHR technology allows administrative staff and clinical nurses to monitor patient health virtually with the right indications of healthy vitals.
It carefully evaluates every touchpoint that provides powerful insights into how every physician can scrutinize weak areas and modify the progress. Results are reported to be effective and tests are conducted extraordinarily. Patients are more satisfied as less time is consumed and more time is given to patient care.
Picture Archiving and Communication Systems improve the access, storage, and exchange of digital images.
EHR Software is the changing business model of healthcare as it changed the entire clinical workflow system from data-oriented to intelligence-oriented. There is value in an easy user-friendly interface and is. This AI shift has advanced the clinical efficiency, effectiveness, and safety of care.
Read More :
My Health Records Helps Patients To Manage All Medical Visits