7 Benefits EMR Software Offers To Have Better Care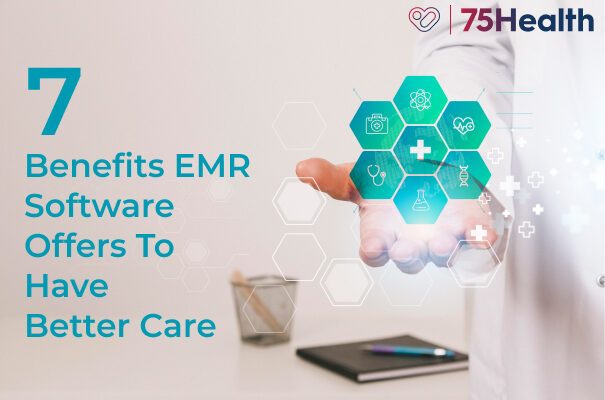 One big technological leap in the healthcare industry is the adoption of cloud-based EMR Software. Doctors can practice store-and-forward prescriptions easily and software takes responsibility for collecting valuable health data to perform the instant assessment.
In general, when a patient is admitted to the hospital they need a special caretaker who can handle their medications with daily assistance. To know the stay period in the hospital, doctors can calculate their current medical condition and existing hospital stay history. With this insight, family members can plan costs, accommodation, and additional services to ease the stay difficulties.
There are always errors in workflow. Instead of blaming others, have a look in the mirror because you gave the space for mistakes to happen. Advanced algorithms and technologies are placed into Electronic Medical Records Software to improve accuracy. Each data contributes to a successful claim in its first attempt. 
Giving consensus remainders to doctors to avoid medication mistakes every time they prescribe medicines to patients. Especially, think of a patient who is already sick. If any type of allergy happens then the entire patient care system is kept at risk. Communication is the key that can tighten the loosened grips with on-screen alert systems. Success comes to a team when everyone is kept on the same page.
Every day some new patient comes to a hospital to get treatment. Being a responsible healthcare provider is an important asset as it passes a healthy learning experience to the next generation and inspires them to be one in the future.
Patient engagement is rapidly increased through patient portals with innovative strategies of EMR Software. With a click, all the important sharable medical information is shared to the respective patient ID.
Many mistakes are preventable. With the right healthcare tool, the best decisions are made that drive exemplary results. People come and go, but clinics stay forever. It is inevitable to be responsible healthcare providers to easily access tools for both doctors and patients. Clinics can live more than 100 years, and the impact it creates every day matters for the long-term journey.
Streamlining workflow in a unidirectional way brings extraordinary cooperation among the doctors, staff, and front-desk staff. Consistent messages are possible through an internal messaging platform. EMR Software can suggest thousands of potential treatment plans available but after analysis, doctors communicate a single and focused plan to have better care.
EMR Software Improves Patient Access
EMR Software is a tool that revolutionizes the healthcare industry by making it easier for doctors and patients to access health information. People can access medical records from any location. This can greatly benefit patients who have chronic conditions or who must see specialists regularly.
With Electronic Medical Records Software, doctors can easily keep track of their appointments, patient medications, and test results. Patients can communicate about health concerns easily with their doctors.
EMR Software is changing the healthcare delivery system by making it a more patient-centered approach. Patients can control their own health care and play a more active role in managing their condition. It improves outcomes and provides better quality care for everyone involved in the system.
The software has immense potential to streamline clinical, administrative, and financial tasks in a hospital or other health care institution. Medical practitioners and staff can keep complete track of patient information which eases the administrative process and eventually leads to better care.
One compelling factor of electronic medical records is the ease of access to patient information and changed the way doctors and their staff work. This led to better care for patients and fewer errors in the system.
Benefits Of Interoperability
When different systems can communicate with each other, EMR Software provides a more seamless and coordinated level of care. It can even facilitate population health management. When data from different sources is aggregated and shared, it can give rise to new insights into population health trends.
Additionally, interoperability can reduce costs by eliminating duplicate tests and procedures. Data sharing between different organizations can help identify at-risk populations and track disease outbreaks near-real-time with fewer clicks in EMR Software.
Interoperability can support research initiatives through a standardized format. It is easier to conduct large-scale analyses and draw meaningful conclusions from the available data. Ultimately, this could lead to breakthroughs in our understanding of various diseases and conditions and new preventive measures and directly provide suggestions in EMR Software.
Easy patient access makes it easier for patients to get the care they need and when they require it. In the past, people with complex medical needs often had difficulty navigating the insurance system.
EMR Software sends all the details with evidential support to patient ID and supports their insurance claim by simplifying the entire healthcare system. Healthcare providers make the coordination of physician services much simpler, which is an important benefit in obtaining quality outcomes.
Have Alternative Medicine With EMR Software
Today doctors are under more pressure than ever to practice evidence-based medicine. EMR Software is a great way for healthcare practitioners to keep themselves updated on the latest trends and treatments while improving their business practices. Manage your practice, keep track of patient records, communicate with your patients and staff, etc.
EMR Software is a key way for medical professionals to make sure their practices adhere to the gold standard for healthcare. It can provide valuable insights into patient care trends by identifying potential drug interactions or adverse reactions to doctors. If a particular group of patients is not responding well to certain treatment techniques, then they may be able to adjust their approach with suitable alternative medicine.
EMR Software can help medical practices improve the quality of care in several ways. First, by providing templates for documenting care, it captures all relevant information during patient visits. This can help medical professionals make more informed decisions about treatment plans.
Secondly, it is designed to support population health management. EMR Software allows users to track key health indicators for groups of patients over time. This data can identify areas where a practice may need to make improvements to meet the patient's needs better.
Thirdly, EMR Software provides multiple benefits for both medical practices and patients. Suggesting alternative medicines on patient request as it entirely changes the medication cost and select medicines within a budget.
Everyone has a different view of health and how to achieve it. Some believe that doctors and hospitals should be scarce and only needed in the direst of circumstances. Others believe their health problems can be solved with a daily diet and a regular yoga routine. The answer lies in the balance of doctors' prescriptions and healthcare practices.
Complementary and Alternative Medicine (CAM) is not a new concept; it has already been practiced for centuries and is known for its excellent results. It includes a range of health care practices, products, and therapies ranging from meditation to massage, herbalism to chiropractic, and acupuncture to homeopathy.
Like modern hospitals, alternative medical practices can also use EMR Software to collect and retain error-free data of their patients in a centrally accessible digital database. In addition, Web-based EMR Software helps streamline care by allowing clinicians to access and share patient information easily.
Electronic Medical Records Software can be a valuable tool for alternative medicine practitioners in promoting quality care and improving patient outcomes. It can help practitioners track the progress of their alternative medicine over time and assess the effectiveness of its interventions.
Read More :
E-Prescribing Software Gives More Time To Its User