Medical Billing Software Eases Front-Desk Workload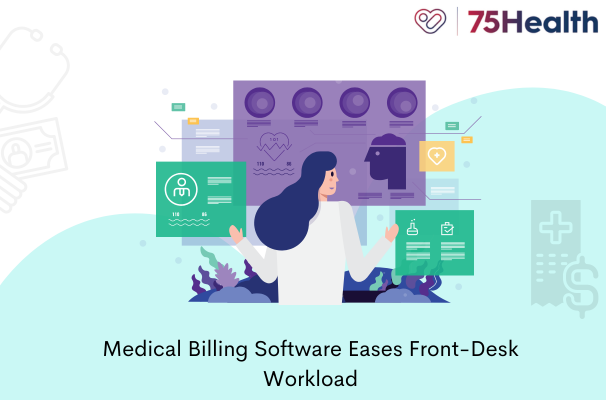 The main goal of healthcare is to provide the best possible treatment. Giving importance to patients ensures satisfaction can increase your practice's positive ratings and reviews. Medical Billing Software increases the revenue and e-bills are shared directly to PHR Software. Patient-centric medical practice is needed most.
You can minimize the wait times so people can complete their medical bills from anywhere but they can skip the queue. This kind of customization can improve patients' experience and they start feeling easiness with your service. Front desk staff can ensure scheduling protocols and know they can come in after a few minutes than their appointment.
Medical Billing Software Prioritises Patient Safety
The waiting rooms of every hospital are filled with sick people. The disease can be contagious and spread through the air so people are easily affected. Even after regular disinfecting practice, patients are afraid to sit next to one another.
Medical Billing Software makes everything safe for you. E-bills and virtual front-desk staff have improved the safety protocols, especially in the COVID-19 pandemic.
When all the documentation works, you can pay 100% attention to your patient during the physical examination. The web-based medical billing software enables a patient to sit and fill out the forms comfortably before they see the doctor.
You must train your front desk staff to communicate with the patient in their PHR Software once they enter the hospital premises. Communication is key to getting better results. Referring patients by their name can build trust by simply communicating and showing interest in them.
Make your patients and their loved ones comfortable by saying that bills can be covered with their insurance and tell them the truth about co-pays and other benefits. The software increases the productivity of front and back desk staff by keeping them organized all the time. It helps to increase the intense focus, clinical value, and instant replacement for canceled appointments.
Medical Billing Software helps your patient with the paperwork in digital files. It's a tricky one where patients must carry the same report over and over. It would be helpful if reports are documented properly on patients' names. The confusing terminologies are simplified and anybody can read the medical bills with simple glossary support.
Managing all the billable services has become easy with Medical Billing Software. With an array of codes, you can simply click and select the right code for the services and give patients an easy payment option.
Medical Billing Software Is the Best Tool For Recordkeeping
Can you imagine your clinic with no records, papers, printer, and telephone ringing sound? It would be hard to even imagine your clinic with no records, papers, printer, and telephone ringing sound? It would be hard to even think like that.
Medical Billing Software brings everything into reality. It streamlines all the clinical complications throughout the billing process. Hospitals have administrative and organizational complexities, this software can find things immediately. It notifies the user to make decisions based upon the financial status and outstanding bills.
IIf your revenue is below 70% of claims then medical billing software offers to boost returns. It is good to diagnose why you are losing revenue. Find which procedures are not lucrative, and consider changing that. Some reasons include misfiled claims, clerical errors, untimely filing, CPT and ICD-10 errors, etc.
Medical Billing Software Is Always An Asset To Organization
Telehealth practice seems to change from day to day, your billing software should do the same. COVID-19 impact forced healthcare staff to learn new skills to meet the needs of patients from distant places.
To run a successful medical organization, you must outsource a few services. Medical Billing Software is one way to deal with these complexities. Subscribing software is also a form of outsourcing, you let a dedicated third party manage your billing department with accurate ICD-10 Codes.
In-house employees' workload is reduced. You can find information in the dashboard and claim settlements are mentioned clearly. You can easily access any other information for compiling reports or reviewing.
Medical Billing Software uses office resources fully to benefit the management much easier. Entire hospital records and patient bills can be handled on a laptop. Fewer people are enough to manage the process and interdepartmental proceedings. Fewer people means fewer errors. It needs less space and technology to be taken care of.
The software is functional and ensures accuracy and regulation change. It boosts your revenue by organizing all documents neatly for easy audits. Another significant benefit is the ease of record-keeping and filing. Digitized filing throws off the errors, and you can start working on serious problems.
Medical Billing Software results in faster claims, and lower overhead costs. It analyzes bills, claims, and reports more thoroughly, reliably, and quickly than any human being. This means a higher percentage is achieved faster with higher accuracy.
It is designed to organize data properly with prioritization. Audits should become easy with these tools as they demand operations to excel well within the principles and guidelines.
Web-based Medical Billing Software very directly gets rid of this complexity and brings new ease and simplicity to your everyday practice. It can improve communication and streamline the practice at every level. It overlooks the compounding effect on your clinical productivity.
Medical Billing Software Can Bring Huge Impact On Your Practice
Providers and physicians are finding ways to improve medical practice quality. Medical Billing Software comes to their first choice because of the features it provides. Flexibility carries more weightage than others. It gives extra hours of relaxation to both administrative and medical staff. You can fix more appointments into a day, and give patients convenient scheduling options.
The software not only gives flexibility but also the strategies and chances to increase the revenue. Today, patients work in different time zones so they want appointments during their convenient hours. Virtual consultation gives advantages over typical business hours. The interoperability features comply with the bill with the right ICD-10 codes.
These Features Can Create Strong Impact To Your Practice
Medical Billing Software can improve clinical operations with instant communication. You can have instant access to any department. No need to wait to get data from receptionists or medical assistants. You have facilitates to get things done faster with the right platform.
Daily operations become seamless and entire organizations are kept on the same page. Mishaps are prevented with super-easy tools. The software ensures sending an electronic copy of bills to the patient portal immediately. Communicating with your patients can make them stay within the treatment.
You can collect, analyze and find opportunities to improve the financial numbers. Making the change, you'll need strong evidential data. Medical Billing Software highlights the key areas to make changes in the practice. It shortens the time by fetching reports from any laboratory or specialists.
It gives the medical professionals the space so they can focus on it. They work solely on patient treatment and other billing and claiming processes are handled by the software. It brings faster reimbursement. The software has detailed eyes on identifying the human errors so denial rates are reduced by following strong billing compliance.
Organizations staying in business for many years have a reputation to care. Any external and internal audit makes the management have clean records to fetch government incentives. Medical Billing Software works well in any environment whether it's large-scale or individual practices, just an internet-connected device, and SaaS subscription.
Lastly, making e-payments is the next simple and convenient way. Front desk staff are performing far more efficiently than before. Forms are filled from the patient mobile phone and this eliminates the queue. Hospitals are now having a cloud-based centralized billing system. Staff can manage all the bills from one place. You can create customizable reports and list suggestions to your colleagues to focus on particular metrics to stabilize the revenue.
Read More :
Analyze Family Medical History With E-Prescribing Software