EHR Software Is A Transformative Technology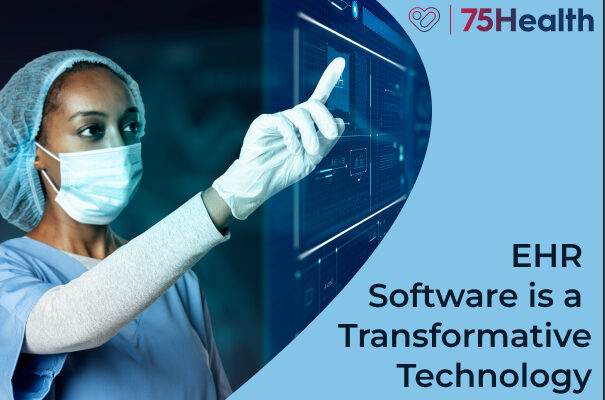 Hospitals and doctors use this phrase commonly, this is not the right time. It's because professional services always take more time. EHR Software brings transformation to any clinic within a few minutes. You should be thankful for cloud technology as it synchronizes patient registries, surveillance, patient history, clinical analytics, and bills.
Healthcare organizations must improve their quality and overcome common obstacles felt by their patients. EHR Software is a sure-shot thing for you. It shapes the bigger administration works into simpler clicks. You can log in and do your analytical work anytime, you don't have to go to the hospital to complete your documentation work.
Quality Services – EHR Software
It is always hard for physicians to be involved with technology. But it's different with EHR Software because it gives the right guidance. The interface design is similar to social media sites, the files are organized under easy-to-find tabs.
The software can standardize your current health system. It can be expanded and compressed as per the need. EHR can be fixed in any place and doctors can expect acute results from it. It monitors live hospital operations and hands-free support can make things happen with the standardization process.
People expect quality over time. Patients, finances, reputation, clinical results, and bills are managed effectively with minimum chance of errors. Doctors take care of patients by improving the results that matter the most. Pretty good insights are achieved when EHR Software is used properly.
Electronic Health Record Software takes the responsibility of analyzing patients and clinical results. Inefficient reporting can hamper productivity, transparency, accuracy, and decision-making. By treating patients with data-driven analytics, faster results can be expected. The dashboard enables you to evaluate health determinants of hospitals like bills, recommendations, billable and non-billable services, complications, and other variables.
Patient engagement enables health data accessible and mobile tools to increase the usage of patient portals. Doctors can schedule & manage appointments, approve refills, and communicate with care teams – without stepping into office. Electronic Health Record Software makes financial transactions easier by expanding the revenue cycle by looking deeper into the patient experience, satisfied patients vs. chronic treatment, and burden level of front and back offices.
EHR Software has become a magical experience to see all the information is updated automatically without doctors' knowledge from various source points. Authorized doctors and staff alone can add, edit and review reports. At the same time, patients are educated to see reports and data through a patient portal.
Value-Based Care Is Leveraged By Electronic Health Record Software
One main challenge of healthcare organizations is managing a large amount of data. Both internal and external sources make the full picture. Electronic Health Record Software brings all together for effectively using the insights of patient management, operational performance, and improved patient care.
Benefits Leveraged By Electronic Health Record Software
Installing EHR Software into a hospital's daily routine can promote online services like virtual consulting, monthly refills, and regular pathology tests for chronic patients. This potentially converts the patients to start using new products and services.
Quick Access to Medical Records
Cloud storage is priceless. It paved the way for all the technological advancements in the healthcare industry. Patients go hands-free, physicians can see files anytime, and providers face ease in storing all the patient information. Data is secured in an encrypted format and no intruders can damage it.
A centralized database system streamlines the entire hospital process. Electronic Health Record Software simplifies all the administration works offices and simplifies the work for physicians. This clears the monotonous work and all attention can be given to improve clinical outcomes.
Medication order management is faster and refills are managed efficiently. Pharmacies receive a direct order from EHR and are responsible to send a delivery copy to the doctor and patient ID. It becomes trackable and value-based care is given by monitoring medicines.
Interactive Interface
Software companies create all the medical used software with mobile navigation experience. The focus is given to experiencing the same kind of hospital workplace on the go. Mobile-based healthcare systems are the next revolution to improve customer service.
Electronic Health Record Software unlocks multiple advantages for physicians with customization options. This gives the chance to utilize the medical records for tracking and other handling. User engagement is achieved at affordable prices and they get 24/7 support service for seamless usability.
EHR Software guides users with self-tutorials and it supports your staff for long-term success. It minimizes the job duties and eliminates human errors. Inside your organization, it creates a platform for having internal communication and also saves tremendous amounts of time in creating cloned notes.
Electronic Health Record Software creates notification alerts for doctors with alternative solutions and creates a cost-effective treatment plan. If medication cost exceeds the patient limit then it automatically optimizes the dosage level and suggests adding alternative medicines to the prescription. It enhances the ability of providers to deliver effective patient- care. Positive outcomes can be achieved with two-way communication like patients receiving formal education from doctors and discussing it with them regularly.
Webside Manner Creates Strong Practice With EHR Software
EHR Software is the new frontier of healthcare. Using the software for medical practice requires a whole new skill set. Doctors are taking online consultation into the mainstream. Treating patients is the same on all platforms but webside manner demands additional qualities like empathetic action, active listening, offering reassurance, etc.
Today, every corner has medical support. The ratio of independent and private practices is increased. They need more practical ways to stay in touch with patients rather than traditional methods. EHR Software alone can't pull bigger results. Telehealth operations, pharmacy management, interoperability, and online billing are the core functions required to match the insurance regulations.
Website Manner Builds Trust & Credibility
Doctors are expecting the software to work efficiently. It should be beneficial to both the practice and the patients. Smartphones, tablets, laptops, and desktops can have full access to the cloud-based application. HIPAA compliance takes care of patient safety.
Like your clinic, you want your software to have all the efficient tools for focusing the patients. Online consultation must have a calm and composed setup. Today almost every smart gadget has camera integration to support video calling, you can use that here to treat patients. The only thing you must take care of is lighting. It will make patients have more engagement like in a live environment.
Being in virtual consultation can be new to many people so maintain a self-introduction in the starting point. It adds value and the patient starts feeling comfortable. You can have some small gestures to keep patients engaged during the appointment.
Allow the patient to speak about the visit and details of their personal healthcare goals. While prescribing medicines make sure you stay within their goal limits. It makes them feel you both are going in the same direction.
Active listening is challenging and distraction comes from the poor internet connection, audio issues, notification distraction, etc. It is better to have a proper checklist before the appointment. Summarize the appointment in short and crisp. It makes them feel as if the problem is simple.
Create summaries with simple language and include the latest outcomes. Give clear instructions to follow and discuss next follow-up visits or answer any patient questions. After the visit, ensure your EHR Software sends a post-visit summary on time.
It is really hard to find the best EHR Software. It should be suitable for both independent and private practices. Young doctors are leaving large healthcare providers to pursue independent practice. It gives them fame as well as bigger income. They need the right and easy-to-use EHR for entire patient management. Patient care is a must and timely delivery of medical reports needs advanced tools from a reliable software provider.
Read More :
Medical Billing Software Eases Front-Desk Workload