EMR Software's Mobility Helps Doctors and Providers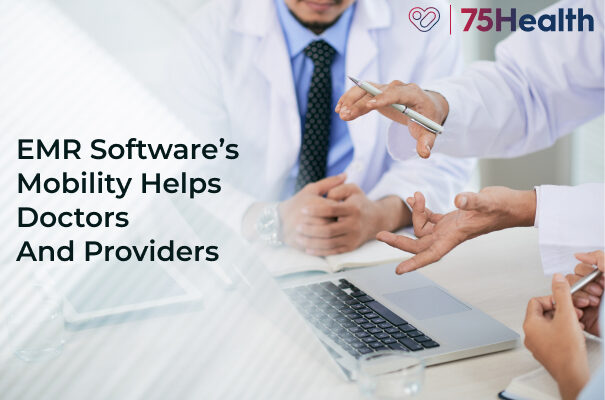 EMR Software is a leading medical software that provides easy access and stays connected with patients. The perfect combination of functionality and ease of use is needed for today's busy healthcare providers. The app can be used on any mobile device as it is compact and lightweight, making it easy to go from room to room or even supply room to an office.
It also enables providers to move seamlessly from a task in one area of the hospital to another without having to get a new device set up for each location or procedure. With its intuitive interface, this EMR Software makes tasks quick and easy, giving busy providers more time for patient care.
To help you understand why mobility is so valuable for your healthcare facility and how an EMR solution can enhance your workflow, here are some of the most common benefits we hear regarding its usage.
Telehealth EMR Supports Remote Patient Care
EMR Software can help to improve communication between patients and their care providers. This is because the system can be used to send messages back and forth between them, as well as schedule video conferencing or phone calls.
Second, it improves care coordination by allowing different care providers to access the same patient information in real-time. This way, everyone stays on the same page and gives the best possible care.
Finally, the ultra-modern benefit of EMR Software is reducing travel costs for patients and their caregivers.
EMR Software simplifies medication management and provides an efficient way to manage medications for patients and providers. By automating the process, EMR Software reduces errors and ensures that all pertinent information is readily available. Also, it can potentially improve communication between providers and patients regarding medications. It can keep track of allergies.
Seamless communication made the entire process transparent and concise. For this level of understanding to be reached, there needs to be mutual respect between the two parties, and delivery info is displayed correctly.
Electronic Medical Record Software is designed to store, share and manage patient information electronically. This includes medical records, test results, family history, and insurance information. 
Software's mobility makes it easier for doctors and other healthcare providers to send reports to the patient portal. People with access are more likely to follow treatment recommendations and take steps to prevent illness or manage chronic conditions.
EMR Software Supports Modern Healthcare Practises
Healthcare is constantly evolving, and new technologies are emerging to help practitioners provide better patient care. EMR Software is one such technology.
One of the most critical changes that EMR Software brings to healthcare is increased efficiency. With EMR Software, practitioners can easily access and share patient information. This makes it simpler to coordinate care and treatment plans.
EMR Software also reduces the need for paper records, which can be time-consuming and challenging to manage. EMR Software facilitates greater transparency in the healthcare system, where patients have access to their medical records. This gives them a better understanding of their condition and their treatments.
EMR Software also allows patients to participate in their care by booking appointments and ordering prescriptions online. It is making healthcare more efficient and effective. This benefits both practitioners and patients alike.
This is a considerable shift from the traditional paper-based records, which often were difficult to read and understand. With EMR Software, patients can be more involved in their care and understand what is going on with their health.
This increased transparency is not only beneficial for patients, but it is also beneficial for doctors, as it allows them to communicate more effectively with their patients. Another benefit of EMR Software is that it allows for increased participation in care.
This increased participation in care benefits patients and doctors, allowing for a more collaborative approach to care. EMR Software is changing the healthcare landscape for the better.
The EMR Software is designed to support modern healthcare practices. It helps healthcare providers to streamline their workflows, improve patient care, and make better decisions.
The EMR Software is also beneficial for patients. It helps them to keep track of their health records and to communicate with their healthcare providers. Patients can use the EMR Software to schedule appointments, request prescription renewals, and view test results.
The EMR Software is a valuable tool for both healthcare providers and patients. It helps to improve patient care and to make the healthcare system more efficient.
By using EMR Software, doctors and medical professionals can avoid the hassle and costs associated with traditional record-keeping methods. With EMR Software, all of a patient's medical information can be stored in one place, making it easier for doctors to track a patient's progress and make informed decisions about their care.
EMR Software is accessible from anywhere; patients can easily access their records and communicate with their care team, no matter where they are.
EMR Software Helps Doctors To Improve Patient Satisfaction
EMR Software not only helps doctors to improve patient satisfaction but also to increase their efficiency and productivity. EMR Software frees up doctors' time so they can focus on patient care by automating many of the tasks of data entry and management.
EMR Software can also help to improve the quality of patient care by providing a central repository for all of a patient's medical information. By having all of a patient's records in one place, doctors can more easily spot patterns and trends that may indicate a problem.
Additionally, EMR Software can help improve communication between doctors and other healthcare team members. By having a central place to share information, doctors can avoid duplication of tests and procedures and ensure that all team members are up-to-date on the latest developments.
EMR Software often includes features that help doctors streamline their workflows, such as ordering laboratory tests or scheduling appointments quickly. The increased efficiency and productivity that EMR Software offers can lead to better patient outcomes.
EMR Software improves clinical workflow and can also help ensure that patients receive the best possible care. The Software can help reduce errors and ensure that physicians have the most up-to-date information about their patients by standardizing the way that patient information is recorded and accessed.
EMR Software can also help to improve communication between providers, making it easier to coordinate care and avoid duplication of services.
It can also help increase workplace efficiency and productivity, leading to cost savings for both patients and providers. In addition, EMR Software can help to reduce paper waste and eliminate the need for storage space for paper records.
Other advantages of using EMR Software include:
The Software can help doctors keep track of a patient's medical history.
It can help doctors make more informed decisions about a patient's treatment.
It can help doctors communicate with other members of a patient's healthcare team.
It can help doctors reduce the chances of making mistakes.
It can help doctors save time.
Doctors who used EMR Software were able to order appropriate tests and make referrals more quickly than those who did not use EMR Software. As a result, their patients had shorter hospital stays and better health outcomes. This is particularly important when coordinating care for patients with complex medical needs.
EMR Software also makes it easier for patients to track their medical information. This can help manage chronic conditions and provide a complete record of immunizations, medications, and other treatments. Patients who are more engaged in their healthcare have been shown to have better health outcomes.
Read More :
Modern EMR Software Eliminates Long Training