My Health Records Helps You To Prepare Patients For Best Results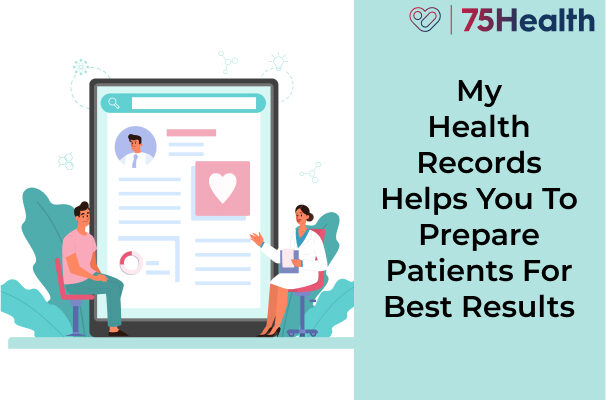 The widespread adoption of My Health Records has created a new way for patients to communicate with their patients. Convenience is the new need for patients in healthcare as they are looking to set their own time for appointments, lab tests, follow-ups, therapies, etc. The pandemic situation across the world gave breakthrough to telehealth practices and revenue doesn't get affected because the operational cost for hospitals and clinics are reduced and profit remains unaltered.
Consulting patients online seems to be difficult but when the right tools are used it becomes a more simplified and easier process. Patients are now planning their hospitals' visits for all their medical needs on the same day by planning, thus saving money in reduced repetitive travels.
While fixing an appointment for the first time in My Health Records, patients can be unsure of what happens next. At the time, you can leverage hospital management software to have communication and inform them about appointment confirmation, what specifics they have to carry, what is already available in the healthcare app, and locate parking time for a visit. Once this is done, your patient can have the right expectations from the visit.
In case if physicians allow only online visits, the patient should be informed of clicking a specific link to use for the session. Front desk staff can support patients through telephone to resolve technical issues before the session and educate patients about video call etiquette, this helps to have a smooth operation. For better communication, they can be asked to sit in a quiet, isolated, and bright place. We can't expect complete control over the environment, but these steps are controllable and must.
In the same way, physicians are also given a checklist for consulting the next patient under the notes options in EHR Software. The integration checks whether the patients have received confirmation from staff, if not physicians can either call front-desk staff or patients directly. My Health Records helps you to know the patient's journey and it outlines all the touchpoints they had such as patient traits, behaviors, goals, and specific needs. Depending on your specialty, you see different patient personas and goals.
You can check whether a patient has followed suggested steps in reaching their goal with the difference in data (pre-visit, visit, and post-visit). You can create stages in a flow chart for patients to visualize the progress towards the goal.
Also, you can identify the pain points, and suggest suitable ways in removing them. A smooth patient journey makes them feel connected with the right source, motivates them to have more communication, and achieve increased satisfaction. Satisfied patients bring repeated and referral business and a stabilized revenue stream is created for your organization through My Health Records.
My Health Record Software Controls The Ownership Of Patient Data
Today, the healthcare industry is the only place holding the world's most important data. The chances of losing control while managing sensitive medical cases. This kind of control must be handled by the patient themselves because data breaches and attacks are unexpected events, My Health Record Software is the key restored in the hands of every patient coming to hospitals. It has changed the dynamics of healthcare practices and reports transferring mode.
Giving control and access to their records is the new expensive feature. Patients have a right to obtain their data and legal policies support it to make it clear for physicians to educate self-help tools.
Healthcare providers must involve in patient engagement to motivate in managing wellness rather than stressing out with sickness. A lot of dollars are wasted if the patient does not take the call in using personalized healthcare plans with required goals.
Patients see My Health Record Software as a proactive way to manage their wellness with advanced tools, products, and services. The study found that these healthcare consumers wanted:
Easy Communication with Physicians: Patients are interested in apps that make their hospital experience so simple with a touch – to book an appointment or directly ask to report to physicians or lab specialists.
Better Tools: It gives full access to medical history but deriving deep insights is the best thing software can do for the layman (patients). It would be so hard to just jot down symptoms and metrics.
My Health Record Software captures all the current data to see whenever a patient clicks to know their records than waiting for hospital approvals. Perhaps, clinical information can be erased without prior notice in the past but the digital security systems have encryption data. It is time-consuming if all medications and problem lists are entered manually, EHR Software sends patient-centric information directly from the consulting desk, that's why it streamlines the series of operations to improve clinical outcomes.
Adapting to the healthcare systems – My Health Record Software plays an important role in patient wellness and spikes up clinical efficiency. Some patients have chosen to share their data with family members and few are kept it secret, both scenarios require security and privacy. The software is built with authentication to digitally identify the user and ensures they give authorized access for auditing and tracking daily lives.
How Did My Health Record Software Become the Best? Find Out
Advances in medical technology have revolutionized healthcare in the United States and Worldwide since 2009. My Health Record Software can improve both the sinking economy and save patients from unawareness. The government and private software companies are spending millions and millions of dollars on technologies to put patient information at their fingertips.
In earlier days, physicians have hated computers but now the world and all advanced treatments demand using them. The difficulties of maintaining patients' medical records are hard because bulge folders with photocopies, printouts, and faxes of test results make patients and administrative staff miserable. With accurate patient data, all problems are being identified, and as such software gives hope to live up to their potential.
My Health Record Software accumulated massive data proving their medical value, and digital resolution drops the expenses. The new software mobilizes any hospital's resources anywhere to improve treatment outcomes. It allows sharing information through cloud technology that encourages the doctors to discuss the best procedures and drugs suitable for diagnosed treatment.
A big hope for patients to check medical data whenever they want, this approach reduces mistakes and oversights. The legible records can be printed and users can download any documents.
My Health Record Software contains a library of care for all different situations and shows clear treatment preferences. A patient with balanced diabetes has a different plan than a person who struggles to control it. Also, a patient living alone needs to follow a different routine, and a person living with a large, supportive family has another set of instructions to be followed.
Algorithms are built to give master details of patients. A comprehensive treatment plan consists of treatments like the patient's asthma, arthritis, depression, weight reduction, etc. Artificial intelligence automatically corrects the data inconsistencies and extracts the right data from images, prescriptions, and other reports.
Any unexpected rise in patient data can alert the clinical team regarding patient vitals so either doctors or nurse practitioners can reach out to them in time and start necessary treatments. Using My Health Record Software ambulatory care unit can inform the hospital team about treatment requirements and ensure everything is ready before reaching the hospital.
My Health Record Software supports physicians mainly as it allows patients to upload medical diagnoses, and advanced algorithms give clinical insights to make instant decisions. Processing large volumes of records is not possible for doctors and software would make it effective for a patient. The digital medical assistant moves and stays with you all the time.
Read More :
With Medical Billing Software Grow Your Medical Practice