EMR Software Perfectly Minimises the Regulatory and Administrative Burden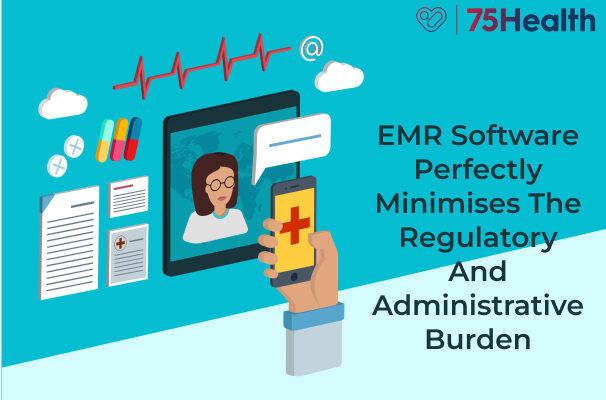 Healthcare policies and cloud technology have helped physicians to make deep progress in chronic care and administration tasks from the last decade. Like a coin, Electronic Medical Records Software has both potential benefits and challenges, and the clinical community is really happy with the usage.
Increased adoption of healthcare tools solves the usability issues associated with the software implementation with effective live training or recorded training for self-phased learners. Government initiatives are promoted within the field and actionable incentive structures are released to grasp providers' attention to take part in it. Thus all the initiatives in healthcare have become successful so far.
Electronic Medical Records Software rectifies administrative issues with a coordinated system and the design makes the entire configuration an easy navigating tool. Regulatory and administrative burdens are the biggest issue for small and medium clinics but the software is programmed to handle multiple tasks at the same time and even manages multi-specialist hospitals with thousands of regular patients coming in.
The clinician burden started to reduce when the Cures Act was enforced in 2016 because it has listed out the requirements for any clinics. EHR Software examines and addresses the clinician burden caused by the lack of tools and training. The federal laws demand physicians and providers to document all the medical events of patients as it gives transparency and confidence in opting for the digital service.
If you are using Electronic Medical Records Software already or planning to change to better service providers, then check whether the following points are available.
Bills must include medical documents
Quality reporting with authentication and valid source point
Does Software is certified by state and federal governments and
Usability design and tutorials
Once you have support in the above topics then productivity is undisturbed and administrative burdens are reduced. The system design includes an effective interface where there is no need to go and stand on queue for order entry, report collection, and bill payments. The physicians can send details immediately to Personal Health Records Software; from there they can make payment to the hospital, pharmacy, and laboratory.
When medical practice is in alignment with Electronic Medical Records Software then the clinical workflow is smooth and supports physicians to make accurate decision making and documentation. Electronic communications and connectivity need a solid security system only then patients can get the belief in you and your provider.
Make an additional contract with cyberspace experts to conduct regular audits to find flaws in the system and check the entry point uses an authorized tool or not as it acts as a center point in clinical decisions and changes the complete patient treatment.
EMR Software Should Be Transparent For Your Staffs To Use
When you have decided to switch medical practices to the best Electronic Medical Records Software providers then you should be aware of potential issues and how to overcome them is a must. In particular, it has become essential to check data security, workflow smoothness, training space, and the user interface to enter patient data easier for the first time.
Patient data is a tempting target for cyber attackers as it contains the most sensitive data to sell over the black market to make huge prices. The enactment of HIPAA policy must be followed from the designing stage to real-time usage. Electronic Medical Records Software keeps files in an encrypted format and checks whether each source point is protected with a firewall and healthcare providers get immediate alerts when someone tries to break into local and cloud storage.
The lawsuits from patients could be severe if any information is compromised so ensure to verify the software provider about security and service policies. A security audit by a third party will be more beneficial in identifying the system flaws and associated risks with deep insights.
Healthcare software should streamline your workflow for ease and in case of poor design could become a bottleneck to entire operations. But if Electronic Medical Records Software was created with real-world situations, the interface should be easy and neat to work with. Retrieving or entering new data should be simple for any type of user.
Menu systems and other commands are designed to avail immediately as needed, without workers having to hunt around. Finishing clinical tasks in fewer clicks could always be supportive to increase productivity. Read software reviews, testimonials and request a demo to test it in your own hands.
While making the transition it demands some comprehensive training first to your staff to know about the usage of Electronic Medical Records Software. So it's more likely to adapt working with the software faster and sooner they can teach others the technique, which speeds up the practice. It is advisable to check the response time of the help desk and support time.
Templates are extremely helpful to add accurate information to patient records. Search time is minimized with directories and suggestions that serve the search intention. If your Electronic Medical Records Software supports speech recognition, saves significant time and money over typing it in slowly.
Your organization can be more streamlined and efficient once you and your staff start using it. Surely fearful pitfalls of Electronic Medical Records Software are avoided to speed up the operations and employees become convenient in handling modern technologies while ensuring patient care and safety.
5 Reasons Why EMR Software Usage is Increasing every day
Electronic Medical Records Software is costly integrity imposed on the patient, medical expert, and healthcare organization. The quality of treatment is improved when the right decision-making tool is used and data accessing is so secured. The software focuses to reduce human errors and highlights staff to follow medical standards. Each entry is important to increase organization revenue.
Multiple Providers
Electronic Medical Records Software is designed to collect data from multiple sources and organize it in chronological order. It fetches accurate medical data about the patient; this makes the patient's clinical investigation much easier. Patients with the chronic disease can't remember all medications they took, evidential records are important to decide which medication would work best for them.
Continuousness is the key advantage; if a patient switches to other doctors or health providers the medical information can be retrieved effortlessly and the switching time is eliminated.
Superior Quality
Health analytics can identify the disease type and forecast the future possible chronic disease from the existing patient history. The results are so accurate to start immediate treatment so the risk can be minimized. Unexpected allergies after taking new medication are predicted in advance and medicine combinations can be changed. This easiness increases the overall efficiency of operation.
Staff performance analysis can be found in Electronic Medical Records Software and management can use reports to find the treatment efficiency provided by each doctor and patient treatment days are compared. It makes the administration team make decisions in improving the required facilities.
Minimalistic Procedure
Electronic Medical Records Software can fetch patient insurance coverage limits and recent check-ups in other hospitals. At the time of billing, staff can integrate medical service code directly into bills – eliminates time to enter data manually and typographical errors. In advance, the patient can be informed about the deductibles and co-pays to avoid last-minute conflict.
The drop-down list reduces billing errors by using a standardized billing format. Immediately after the appointment, prescriptions are sent to pharmacies and front-desk staff. Even the next follow up date can be informed to set reminders in PHR.
Cloud Storage
Patients are skeptical of data security while using a web-based Electronic Medical Records Software. The concerns can be clarified by showing HIPAA certification for safer transactions. In case of a natural disaster or accidental situation, the entire patient database is kept safe even if the local backup device is damaged.
Reduced Labour
Labour tasks and everyday workflows are streamlined effectively through Electronic Medical Records Software. This keeps the employees focused on important tasks rather than just entering and filing data under each patient ID. The pre-defined template collection makes the report-generating process simple and forms can be duplicated from previous patient files with drag-and-drop options.
Read More :
My Health Records Helps You To Prepare Patients For Best Results