Patient-Centered Billing System By Medical Billing Software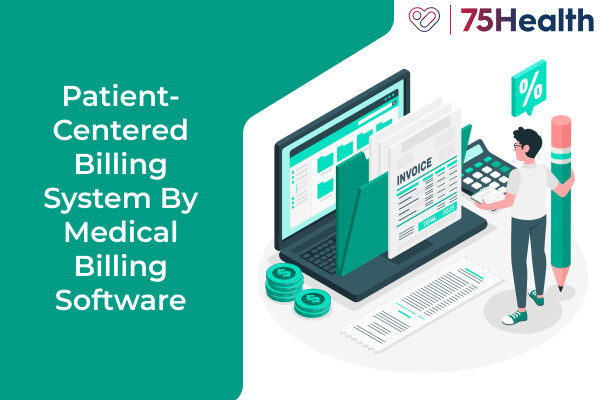 Medical Billing Software is a patient-centered billing system that helps make billing painless and efficient. The comprehensive medical billing software helps medical offices automate the billing process to focus on their patients.
Medical Billing Software offers several advantages for both medical practices and patients. In addition to streamlining communications, it can improve patient care by providing medical providers easy access to essential health information.
It allows medical offices to communicate with their patients and insurance companies in more proactive and productive ways, ensuring compliance and accuracy.
Web-based Medical Billing Software can help doctors and other care providers make more informed decisions about treatments and preventative care. Additionally, it can help reduce costs by eliminating duplicate tests and procedures.
It can help reduce the amount of time that is spent on administrative tasks, and it can also help improve the accuracy of billing and claims. Additionally, streamlining the billing and claims process can help reduce the overall cost of healthcare.
The software also gives medical offices the ability to receive real-time feedback on their financial performance while providing doctors and nurses with the tools they need to deliver the best possible care for their patients.
Their software is compatible with the leading EHR and practice management systems, resulting in an easy workflow for medical billing. Superb customer service and reliable and user-friendly software make Medical Billing Software an industry leader.
Medical Billing Software can resend a failed claim in seconds, rather than forcing you to wait for a human to research whether the claim was incorrectly denied due to incorrect billing codes or other errors.
The built-in audit functionality also allows users to examine their entire claims history by date, provider, payor, and diagnosis to spot trends – helping you save time and money on every share.
Planning is essential for any growing business, but if you're keeping track of multiple locations, providers, and many employees, it can be challenging to know where your business stands at any given time. Medical Billing Software eases tracking methods and provides information in a few clicks.
Enhance Financial Reporting By Medical Billing Software
Medical Billing Software is beneficial for billing and managing patient accounts and can also help enhance financial reporting. This is because the software can help to provide accurate and up-to-date financial information. This can be useful for hospitals and other healthcare organizations in several ways.
The software can help to provide accurate and up-to-date information. This information can be used to make informed decisions about where to allocate resources, monitor trends, and make necessary adjustments to policies and procedures.
Integration Of Medical Billing Software Benefits Your Practice
The medical world has changed a lot over the years. A few decades ago, most medical practitioners worked in small practices in one area. Today, they work as part of large institutions with multiple locations that draw patients from a wide area.
Still, many of the functions are more or less the same. Medical Billing Software includes processing patient registration and insurance claims, scheduling appointments, ordering lab tests and procedures, and more.
Electronic health records generate digital versions of a patient's medical history that any authorized practitioner can access. Similarly, Medical Billing Software accurately generates the billing process as it provides more coordination between practitioners and patients.
Furthermore, paperless medical billing is not only more efficient but it is also more secure. When patient information is stored electronically, it is less likely to be lost or stolen.
Medical Billing Software can save small medical practices time and money. With an automated system, practices can avoid the hassle of submitting claims manually and can receive payments more quickly. In addition, it can help to reduce errors and increase accuracy.
Small medical practices can benefit a great deal from Medical Billing Software. Here are a few ways:
You will reduce costs
Your practice will become more efficient
You will benefit from specialized technology
You will be able to focus on caregiving and treatment instead of wasting time on administrative matters.
Overall, the Software can be a great asset for small medical practices. Streamlining the billing process helps practices to run more efficiently and improve their bottom line. This is especially important for small practices that may not have the resources to invest in a dedicated billing staff.
Medical Billing Software can help to reduce the risk of billing errors and flag any potential errors. In addition, it provides transparency and helps patients to understand their bills. Consider a scenario where a patient is admitted to the hospital for a procedure. Once discharged, the patient will likely receive a bill that includes various charges for the services rendered.
If no Medical Billing Software exists, it can be difficult for the patient to make sense of the bill. They may not know what each charge is for and may be unable to identify any potential errors. With Medical Billing Software in place, however, patients can see a breakdown of each charge and can more easily identify any potential errors.
This Software also allows patients to see an estimate of what their insurance will cover, which can help them prepare financially for their upcoming expenses. In this way, Medical Billing Software provides much-needed transparency and peace of mind for patients and providers.
The Software can also help practices improve their patient experience. By streamlining the billing process, patients can get their bills faster and be more likely to pay them on time. This can help practices improve their cash flow and reduce accounting and administrative costs.
Medical Billing Software Drive Revenue
Medical Billing Software helps to decrease the denials and increase the revenue stream. It is a strategic tool that provides automation in medical billing services, offering complete claims management. The reliability will generate revenue for the hospital.
The Medical Billing Software must be able to work with the hospital's existing systems and software. It should be able to quickly and easily generate invoices for patients and manage claims. Reports are generated regularly so the hospital can see how much revenue is generated within a particular period.
Physicians need to be able to focus on their patients and provide the best possible care. With medical billing support in place, they can trust that their claims will be handled expertly, yielding maximum reimbursement. This peace of mind is invaluable, allowing physicians to do what they do best.
It will completely handle all aspects of billing, from start to finish. This includes claims submission, denial management, and everything in between. This comprehensive coverage ensures that no claim slips through the cracks and that denials are dealt with efficiently.
Physicians can focus on patient care and ensure their finances are expertly managed. It includes documenting the services provided, coding them using accepted industry standards, submitting a claim for reimbursement, and collecting payment. The goal of Medical Billing Software is to get paid for your services.
A streamlined billing approach can help ensure that quality is met at each level of service. By clearly understanding the billing process and taking steps to streamline it, providers can improve their chances of getting reimbursed for their services.
In today's healthcare environment, provider reimbursements are often tied to the quality of care they deliver. One way to ensure that quality is met at each level of care is to streamline the billing process. By streamlining billing, providers can improve their chances of getting reimbursed for the services they provide.
Another approach is to develop relationships with insurance companies and other payers. This can help simplify the reimbursement process and ensure that claims are processed quickly and accurately. Medical Billing Software provides the dashboard where users can see all the claim status and contact information for further assistance.
By taking steps to streamline their billing processes, providers can improve the overall quality of care they deliver. This, in turn, can lead to improved patient outcomes and satisfaction levels.
Good Medical Billing Software can save the practice money and time in the long run. Patients also benefit from medical billing software, as it can help ensure that they are billed correctly and receive any insurer-mandated discounts they are entitled to.
Read More : Medical Billing Software Minimizes Hospital Expenses